La Baleine treats you to three southern recipes with natural sea salt
July and August are not only the months when school children hang their book bags on the hook, but also the harvest months for La Baleine's natural 'fleur de sel'. In the heart of the South of France, on the magical lakes of Aigues-Mortes, salt workers scoop the crystallized salt flowers out of the water by hand these days. The iconic French brand with the whale is already serving you three salty summer dishes, with fine and coarse sea salt in the spotlight in addition to fleur de sel.
Since 1934, La Baleine has stood for unadulterated natural salt, extracted to the rhythm of the sea, the sun and the wind. The Romans discovered centuries ago that Aigues-Mortes in La Camargue has the perfect microclimate to produce salt. Today, La Baleine has become an international brand known for its unique know-how to harvest salt sustainably.
Natural and sustainable sea salt
Nothing about the intense flavor of sea salt has changed in all these years. However, since this summer, La Baleine's products have a new look in lighter blue, with more pronounced marine elements as well. The new packaging highlights the craftsmanship of the 'sauniers'. And as the undisputed king of the sea, the whale keeps its central place in the logo – drawn by French painter and illustrator Benjamin Rabier.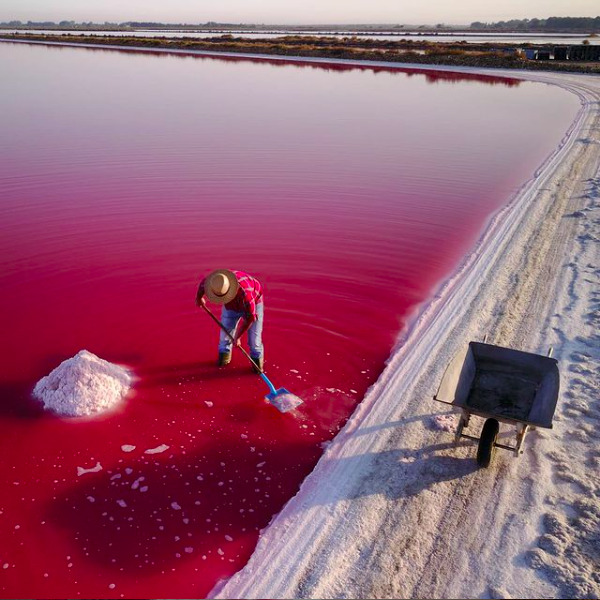 Three summer recipes with sea salt
La Baleine's salt range is wide, from fine and coarse sea salt to the extra-flavorful fleur de sel with many natural minerals from the sea. Because it is harvested on top of the water, almost immediately after crystallization, the salt crystals are still a bit moist and crackle – resulting in that typical taste and texture.
Burrata with cucumber gazpacho (with fine sea salt and fleur de sel)
Ingredients (for 4 persons)
– 2 burrata
– ¾ cucumber, diced
– ¼ cucumber, to make wafer-thin strips
– 2 tablespoons apple cider vinegar
– ½ red onion, cut into thin rings
– 1 tablespoon of olive oil
– fine sea salt La Baleine
– fleur de sel La Baleine
– pepper
Preparation (20 minutes)
For the cucumber soup: blend the cucumber cubes, strain and press the flesh well to get as much vegetable juice as possible. Season with fine sea salt, pepper and apple cider vinegar. Set aside in the refrigerator. Make wafer-thin strips of the remaining cucumber with a peeler. Serve a bottom of cucumber gazpacho with half a burrata in each plate. Finish with strings of cucumber, onion rings and a few drops of olive oil. Just before serving, season the burrata with fleur de sel.
Marinated citrus salmon with vinegar rice (with fine sea salt)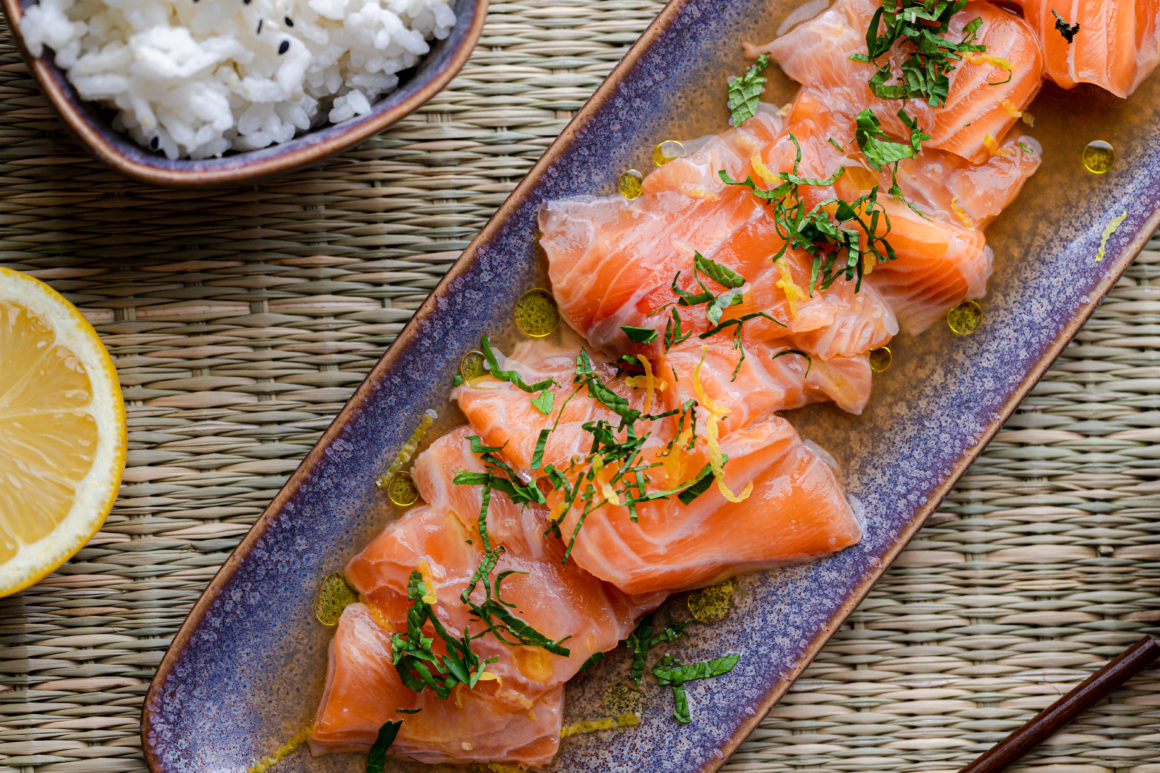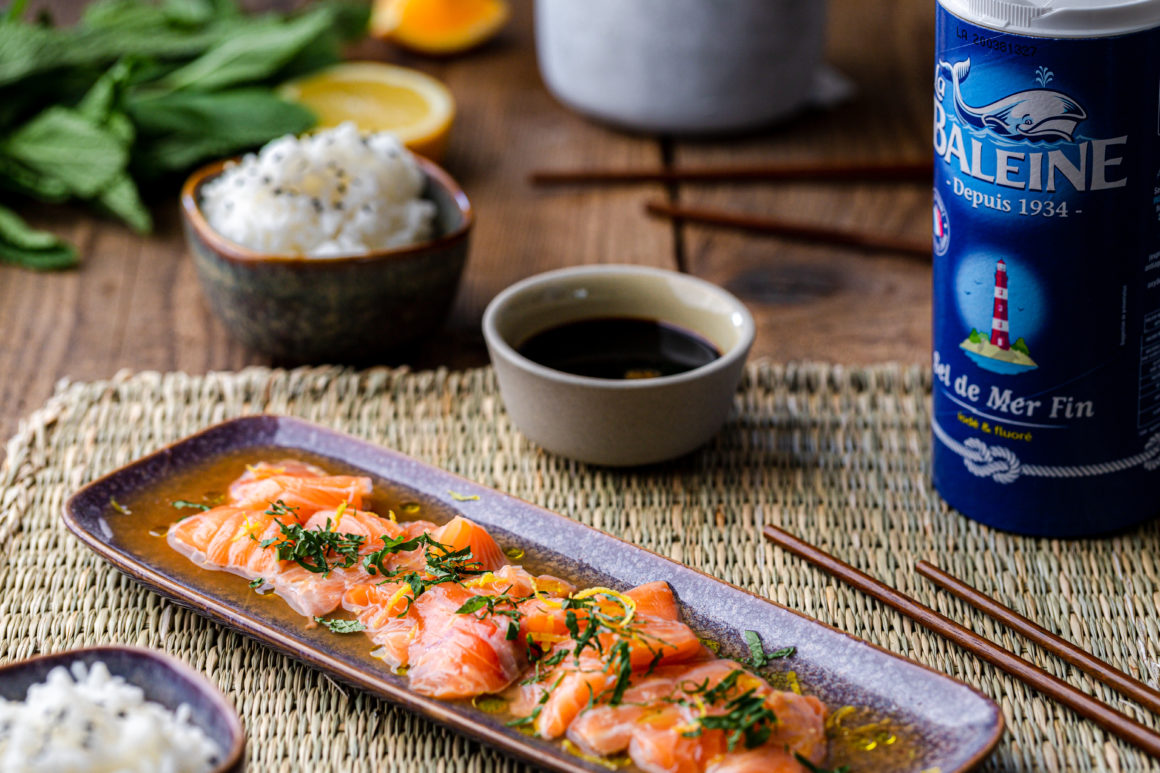 Ingredients (for 4 persons)
– 2 salmon fillets
– ½ grapefruit, squeezed
– ½ orange, squeezed
– 1 lemon, squeezed
– ½ bunch of cilantro, finely chopped
– ½ bunch of mint, finely chopped
– 200 g fine sea salt La Baleine
– 200 g round rice
– 3 tablespoons of rice vinegar
– ½ teaspoon fine sea salt La Baleine
– 1 tablespoon of sugar
– 1 tablespoon of water
Preparation (30 minutes + 1.15 hours rest)
Cut the salmon fillets into one-inch-thick slices. Place them in a bowl, cover with fine sea salt and let rest in the refrigerator for 15 minutes. Meanwhile, mix the juice of all the citrus fruits with the spices. Rinse the salmon slices, place them in the citrus-spice mixture and let marinate for 1 hour. Rinse the rice grains in a colander with clean water. Put the rice in a pan, cover with water to an inch above the rice and bring to a boil. Cover the pan and cook the rice, over medium-high heat, until tender, about 12 minutes. In a glass, mix the rice vinegar, water, sugar and half a teaspoon of fine sea salt. Let steep for 5 minutes to allow the sugar to dissolve completely. Pour over the cooked rice and mix gently. Serve the marinated salmon with the rice.
Mackerel in a crust of salt with crispy oven vegetables (with coarse sea salt)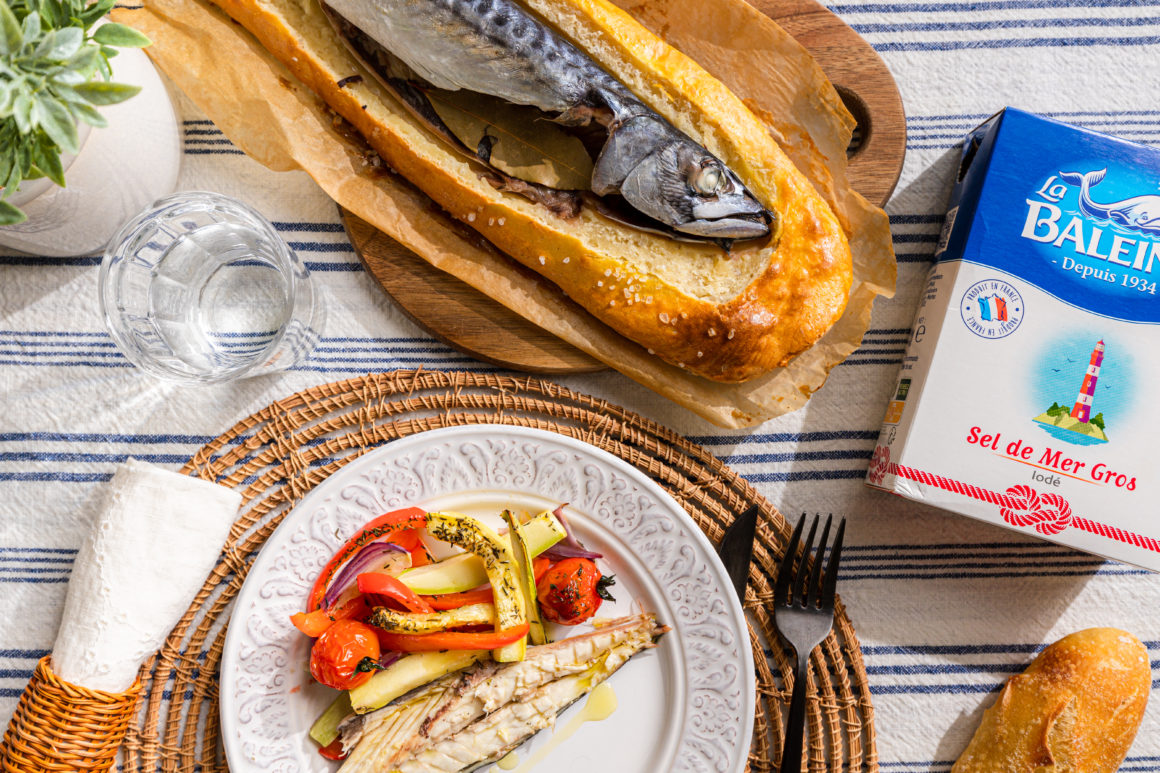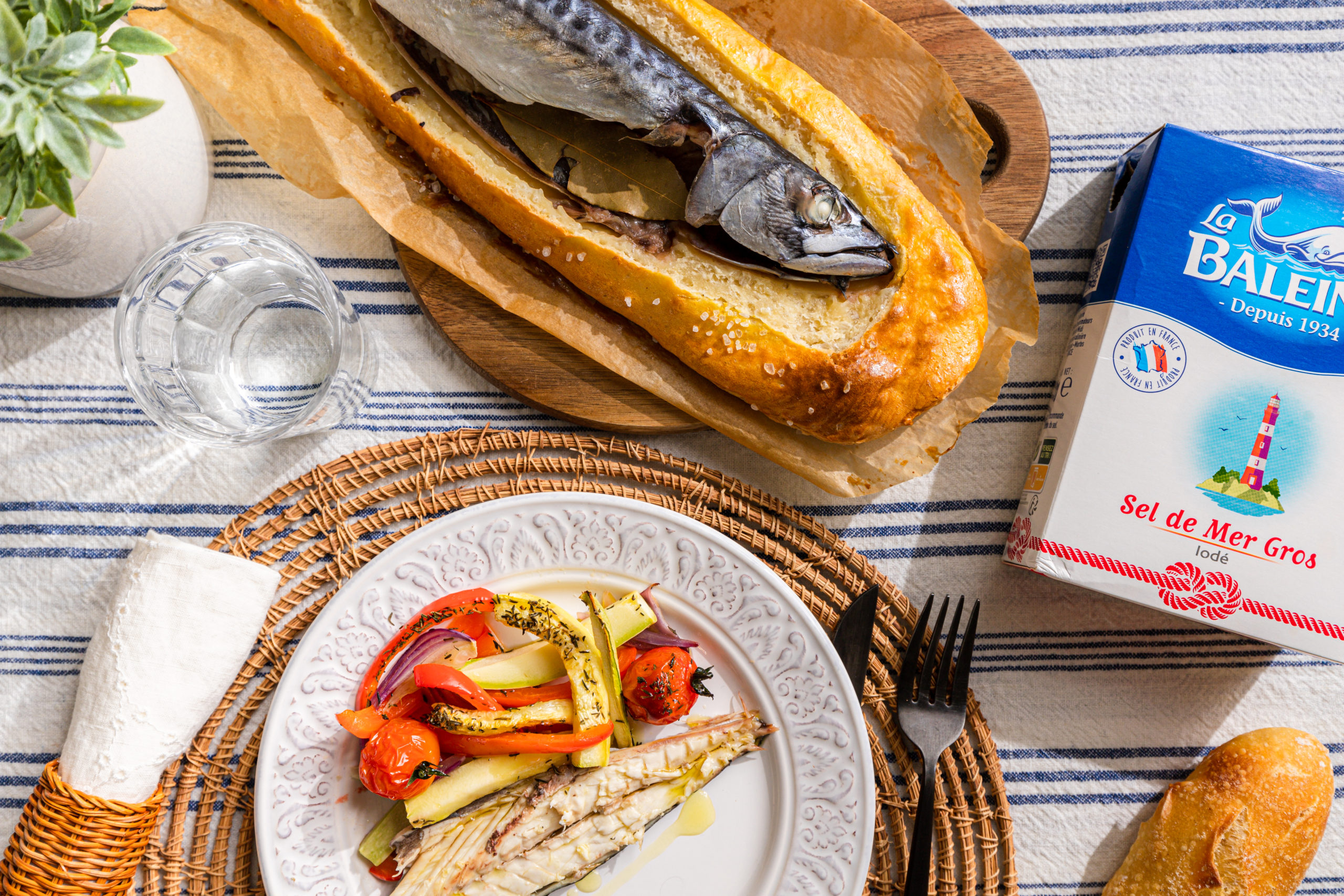 Ingredients (for 4 persons)
– 2 mackerels
– 400 g coarse sea salt La Baleine
– 400 g flour
– 2 proteins
– 1 egg yolk
– 15 cl water
– ½ lemon, cut into thin slices
– 2 sprigs of rosemary
– 1 red onion, finely chopped
– 1 red bell bell pepper, cut into strips
– 2 zucchini, cut into thin strips
– 20 cherry tomatoes
– 1 pinch of pepper
– 1 tablespoon of olive oil
– 1 pinch of fine sea salt La Baleine
Preparation (40 minutes + 1.30 hours cooking and resting)
For the salt crust, in a bowl mix the flour, coarse sea salt, egg whites and water. Knead for 5 minutes to form a dough ball – add a little water if necessary. Cover with cling film and refrigerate for one hour. Preheat the oven to 180°C. Place the vegetables, in a single layer, in an oven dish or on a baking sheet covered with baking paper. Sprinkle generously with fine sea salt, pepper and olive oil. Let cook in the oven for 20 minutes. Roll out the dough, into a rectangle 5 mm thick. Divide in two. Place a whole mackerel on each rectangle, topped with a sprig of rosemary and a slice of lemon. Make borders around and brush with the egg yolk diluted with a tablespoon of water. Bake for 15 minutes at 230°C. Serve immediately!
Did you know that…
– … you can recently stay on the shores of the salt lakes?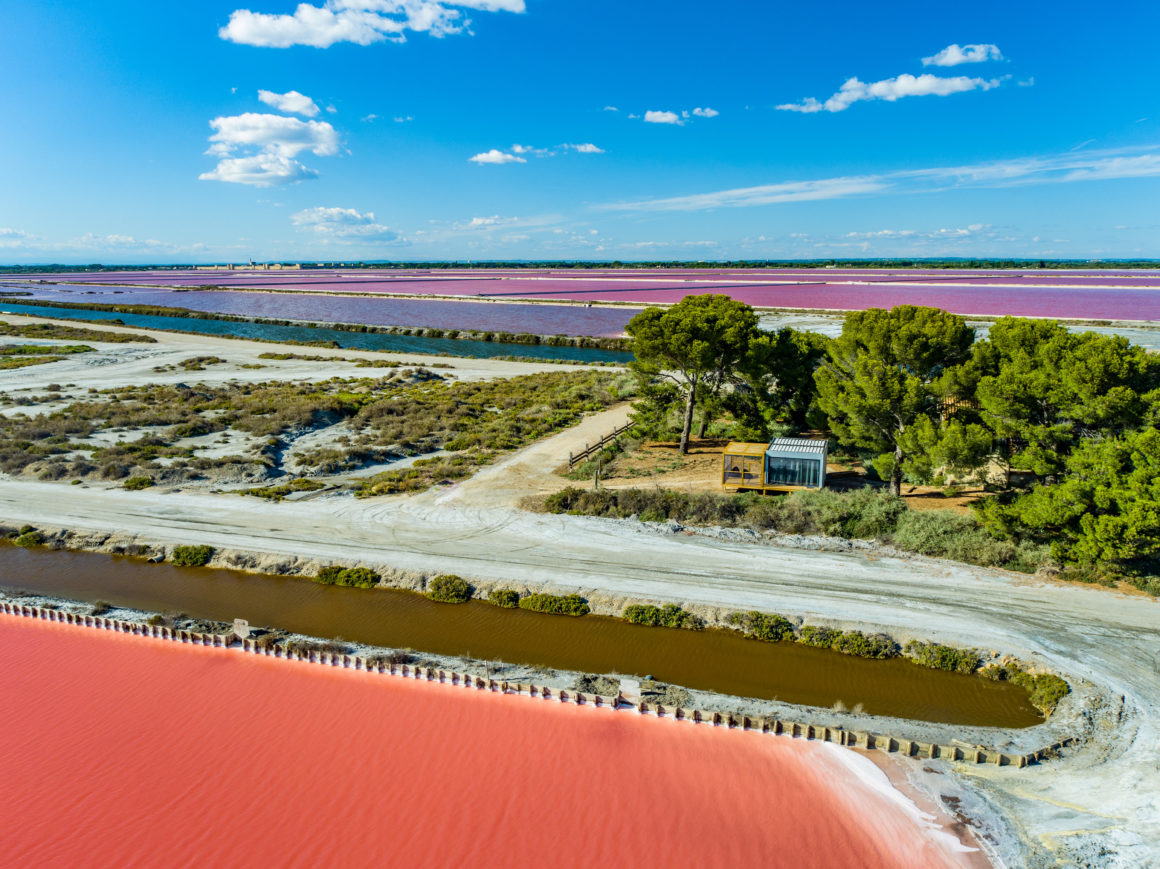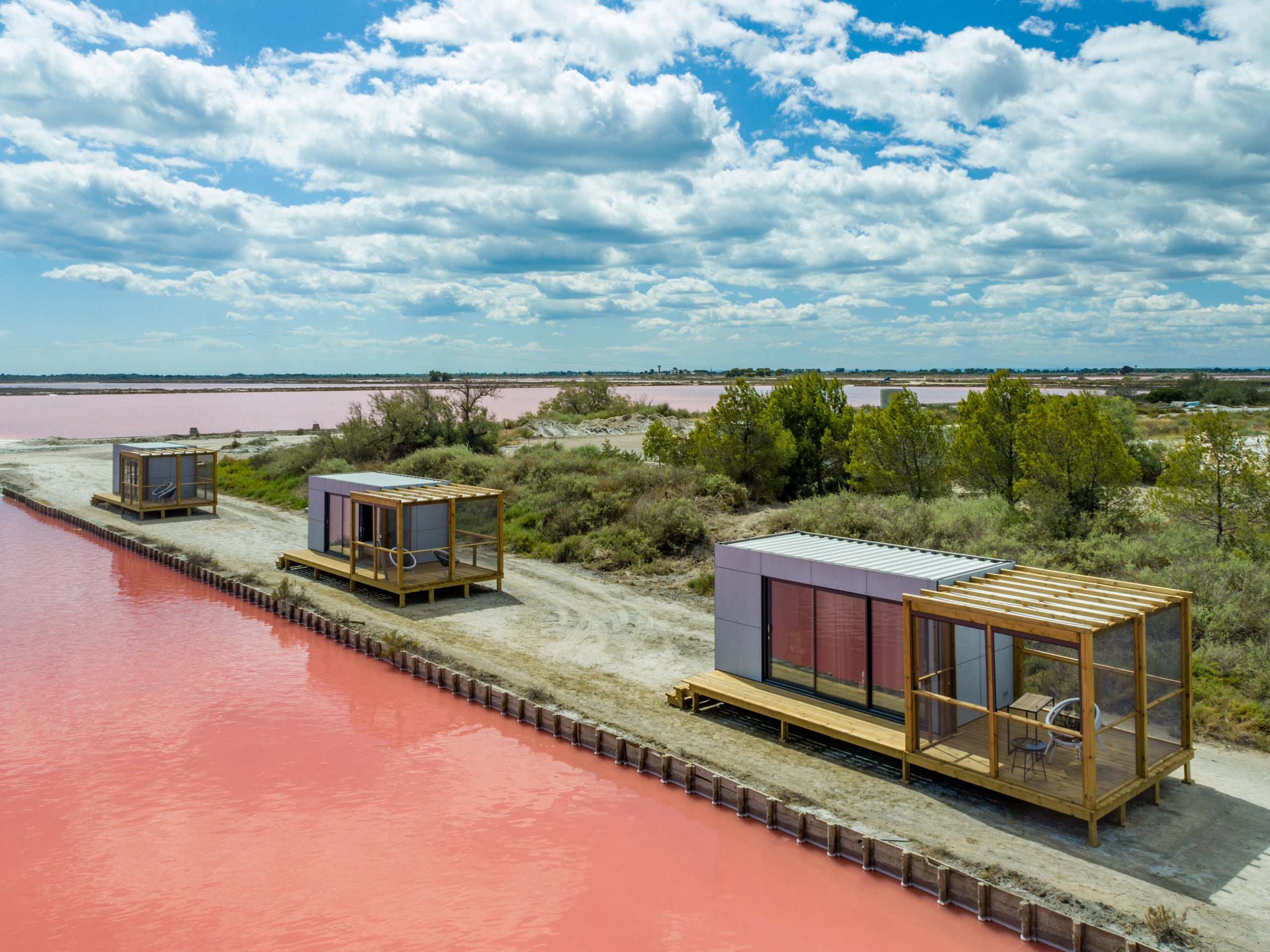 The salt lakes of Aigues-Mortes form an 8,000 ha protected nature reserve with unique flora and fauna, including over 10,000 flamingos. To share this natural beauty with the general public, La Baleine is opening six vacation homes – 'cabanes' – in the middle of the salt flats. Immersed in the silence of nature, you can stay here with a view of the surrounding salt flats. The cabins are 15 to 20 m2 in size and all equipped with a double bed, kitchenette, bathroom and terrace with mosquito netting around it.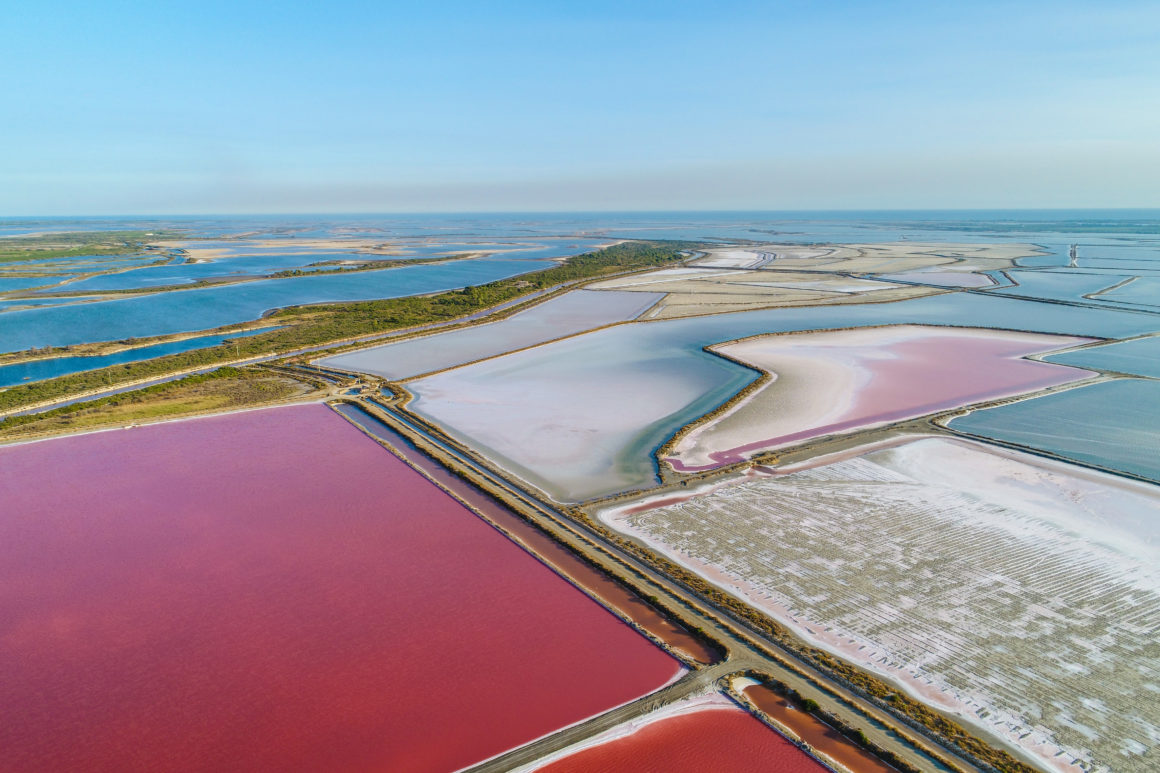 For more info: www.nuitssalines.com / www.visitesalinsdecamargue.com