The weather is against us but hey, all the more reason to think about a fast trip to a sunny island, right? Ibiza, located in the Mediterranean Sea, is one of the most popular destinations for summer vacations. The island is known for its beautiful beaches, vibrant nightlife and excellent restaurants and stores. In this summer special, we share some of the best hotels, restaurants and stores in Ibiza that will make your vacation unforgettable. Whether you are looking for relaxation and luxury, or adventure and discovery, Ibiza has something for everyone. Read on to discover what this beautiful island has to offer.
Ibza's coolest beach bars
UHLA by UM
Combine feet in the sand, sea views, a relaxing soundtrack and high-end Spanish food and you have UHLA by UM. At the end of the famous Santa Eulalia promenade, you'll effectively find the pot of gold. This spot is great for chilling out for an entire day on the luxurious lounge chairs and having lunch under the shade of the palm trees. Those who take chilling on the beach seriously can take their lunch on the loungers thanks to their extensive beach menu.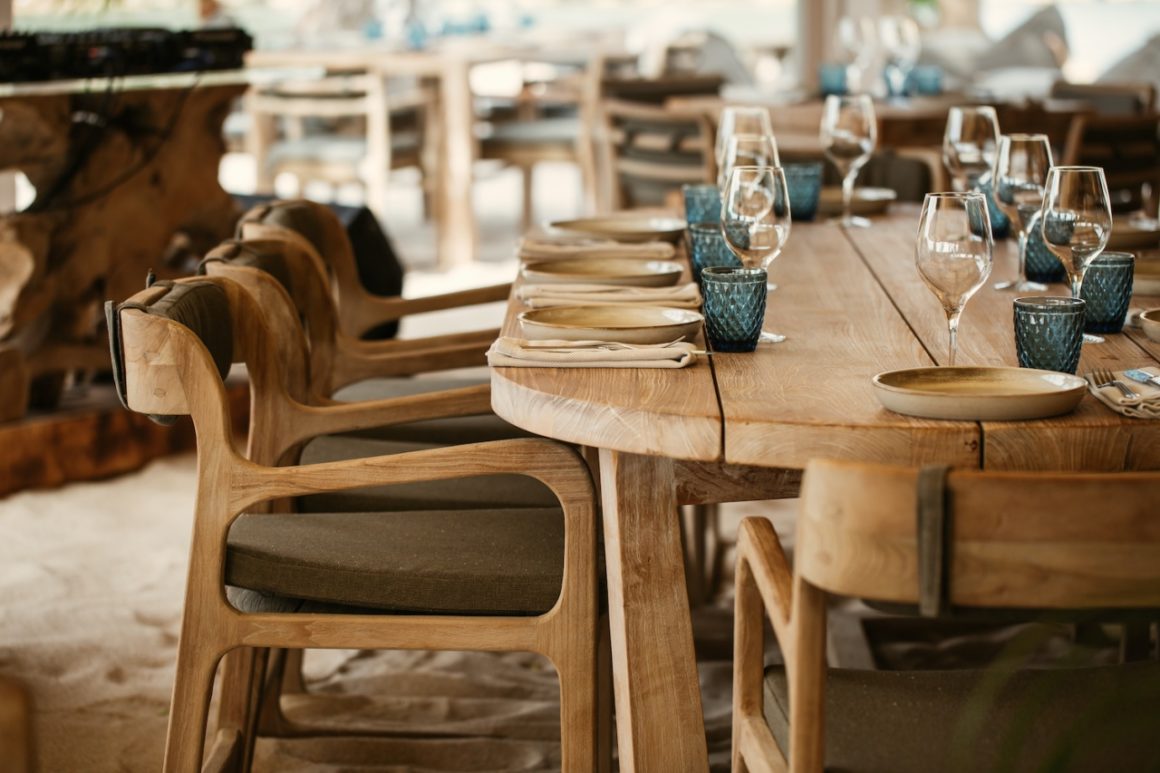 In addition, you are also welcome barefoot in the restaurant. Spanish dishes are brought to your table with organic produce. Summer fresh salads, traditional Spanish seafood paella, grilled catch of the day and 30-day aged Ribeye steak are some of their specialties.
K.OBA by UM
The chefs at K.OBA put a modern twist on Balearic cuisine and are so served to share with your company. In the mum good things take time, dishes are brought to the table intermittently as they are ready. The backdrop to your meal are beats inspired by Latin American folk and jungle sounds. All to the rhythm of electronic music.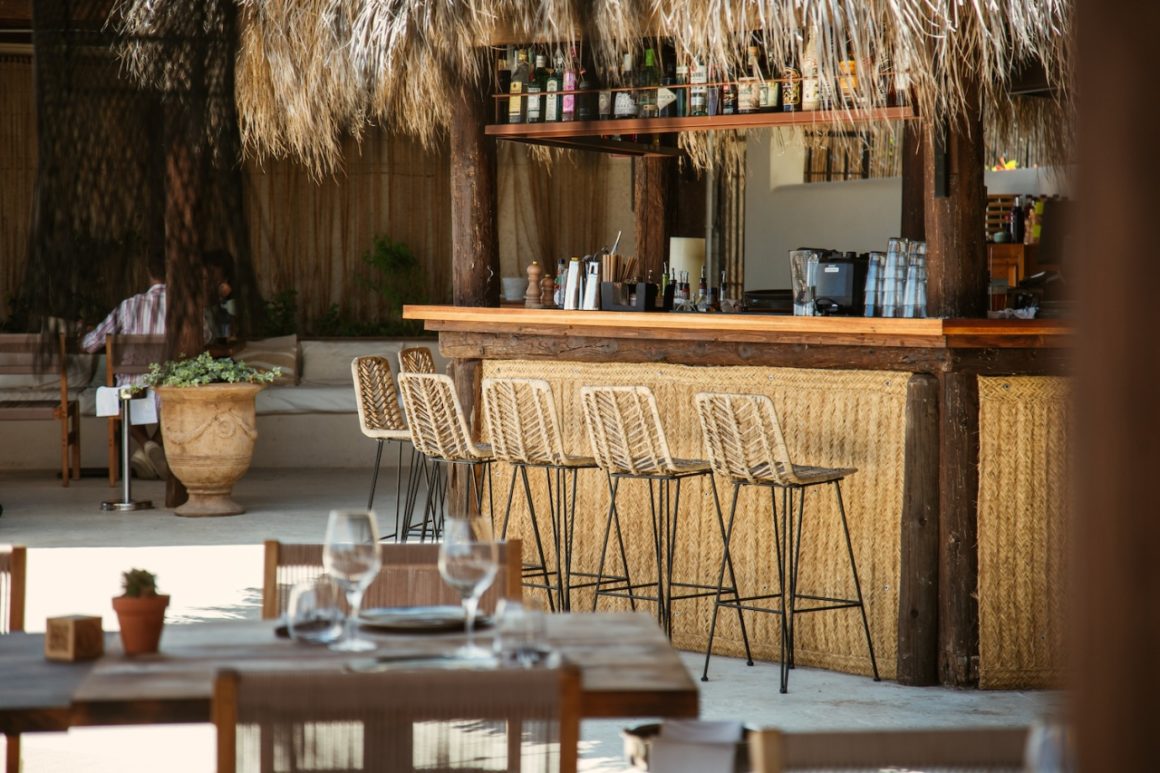 Fico
From breakfast to appetizers and dinner, at Fico you are welcome all day long for on and off Ibiza vibes on the beach. Each week the Fico Bartender chooses a selection of wines and cocktails, which you sip with live music playing in the background. Retreat all day in the beach club with Balinese beds. Order your favorite drinks & bites all day long.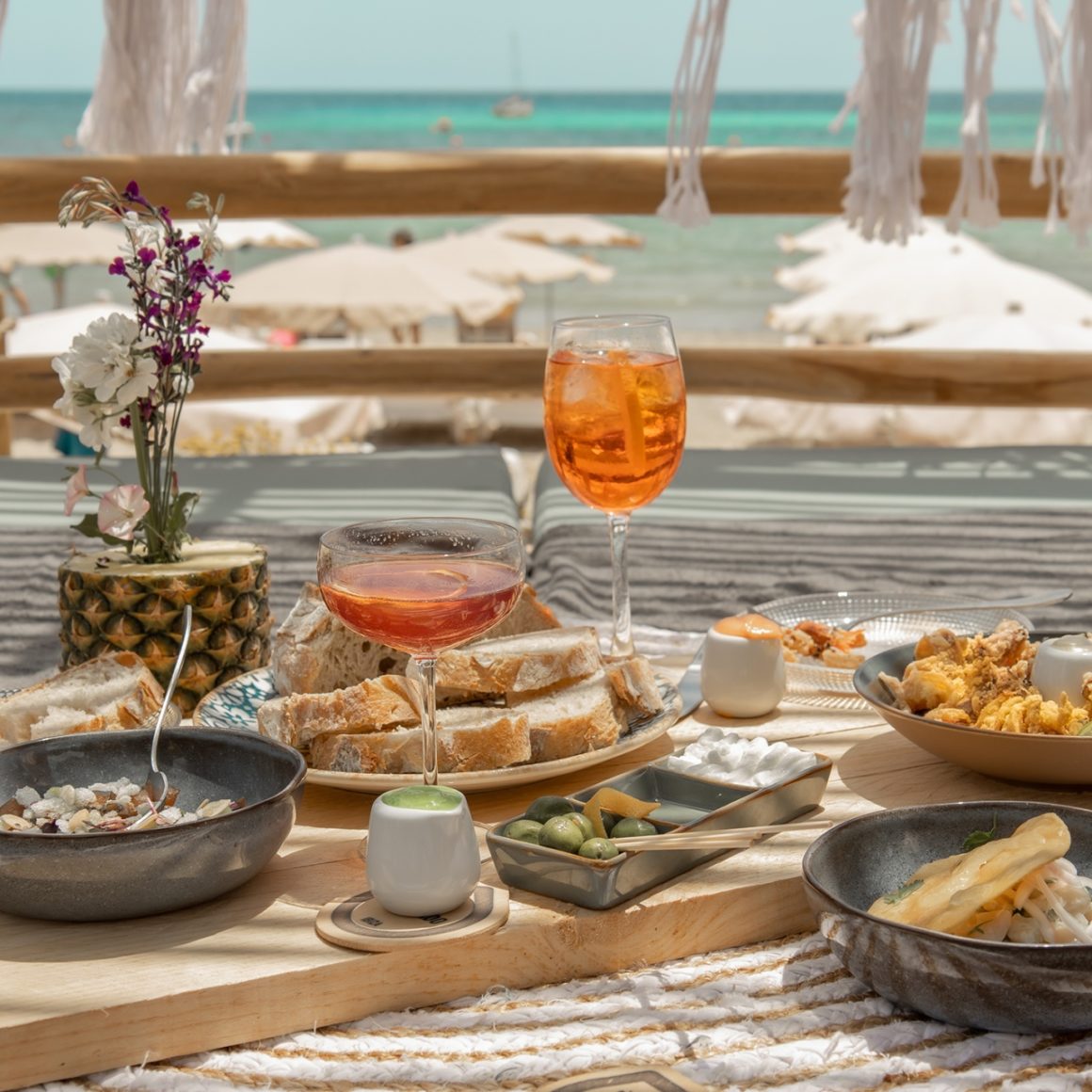 Casa Jondal
You no doubt saw this one pass by on Instagram last summer. In Sant Josep de Sa Talaia you will find the most aesthetic beach restaurant in Ibiza. Casa Jondal has been on the island since 2020, but after a rusty start due to corona, it is finally getting the attention it deserves. Beautiful, Scandinavian chairs, long wooden tables, lounge chairs with white cushions, wicker lustres and linen cloths that offer you coolness. From the melting bread that begins your culinary experience to the heavenly dessert, the team is committed to providing you with the best services. The presentation of the dishes is just as idyllic as the interior and the view of the azure sea.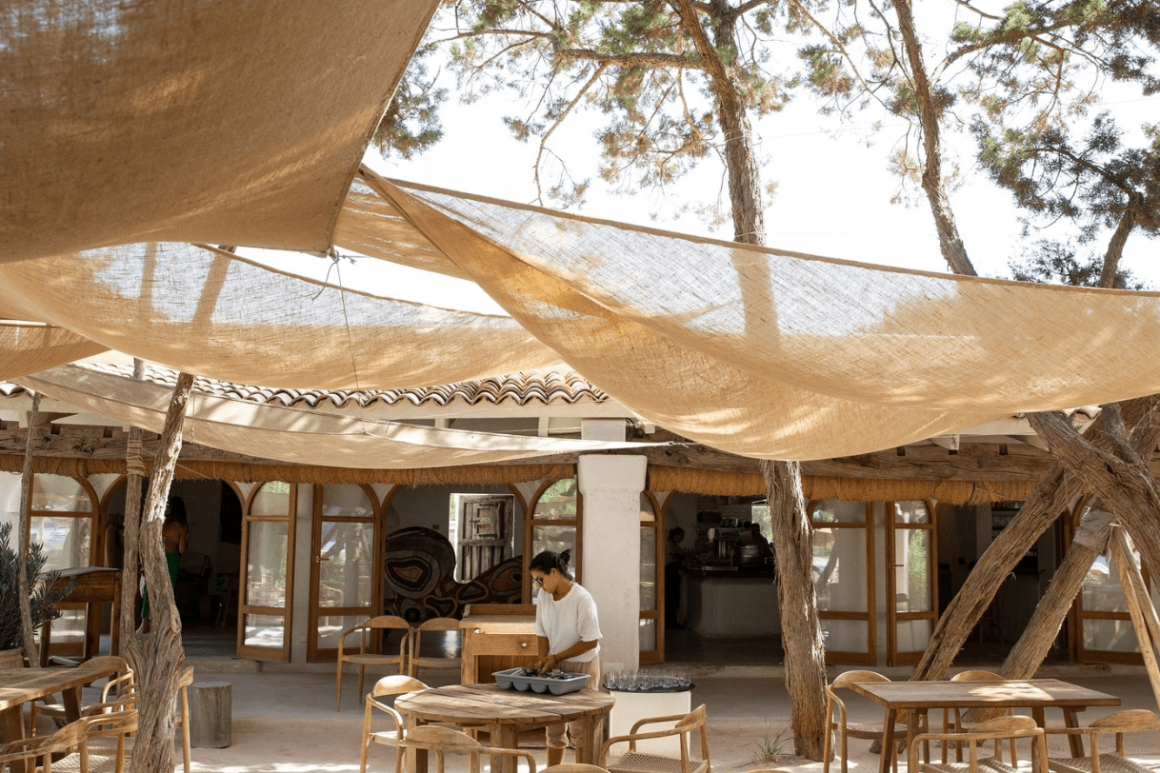 Amante & Aiyanna
Beach club Amante has everything your sunny heart desires. This unique hotspot with more than 10 years of experience on the island is a piece of heaven on earth that you really must have visited. Located in a spectacular bay, Amante is perfect for those who want to relax in luxurious surroundings right on the beach. The luxurious white cushions allow you to spend an entire day comfortably listening to the murmur of the sea. In addition, Amante is considered one of the most romantic restaurants in Ibiza. You can choose a private table there where you will be served separately from other guests by your own waiter. In Cala Nova is Amante's sister restaurant, Aiyanna. A stylish, relaxed beach restaurant with great food and service. Laid-back, upscale and one with the natural surroundings. Think panoramic views of the Mediterranean, wooden terraces, a dining area inspired by modern design and nature, delicious (including vegan!) food and a warm welcome for all. Colorful umbrellas provide the bohemian atmosphere and much-needed refreshment. Again, you can rent beds for the day, but are more likely to go here for the food. Fun fact: Aiyanna is the first restaurant in the Pitiusas Islands to receive Biosphere Certification, awarded by the RTI (Responsible Tourism Institute) and endorsed by UNESCO and the World Organization for Sustainable Tourism. Carefree enjoyment, in other words!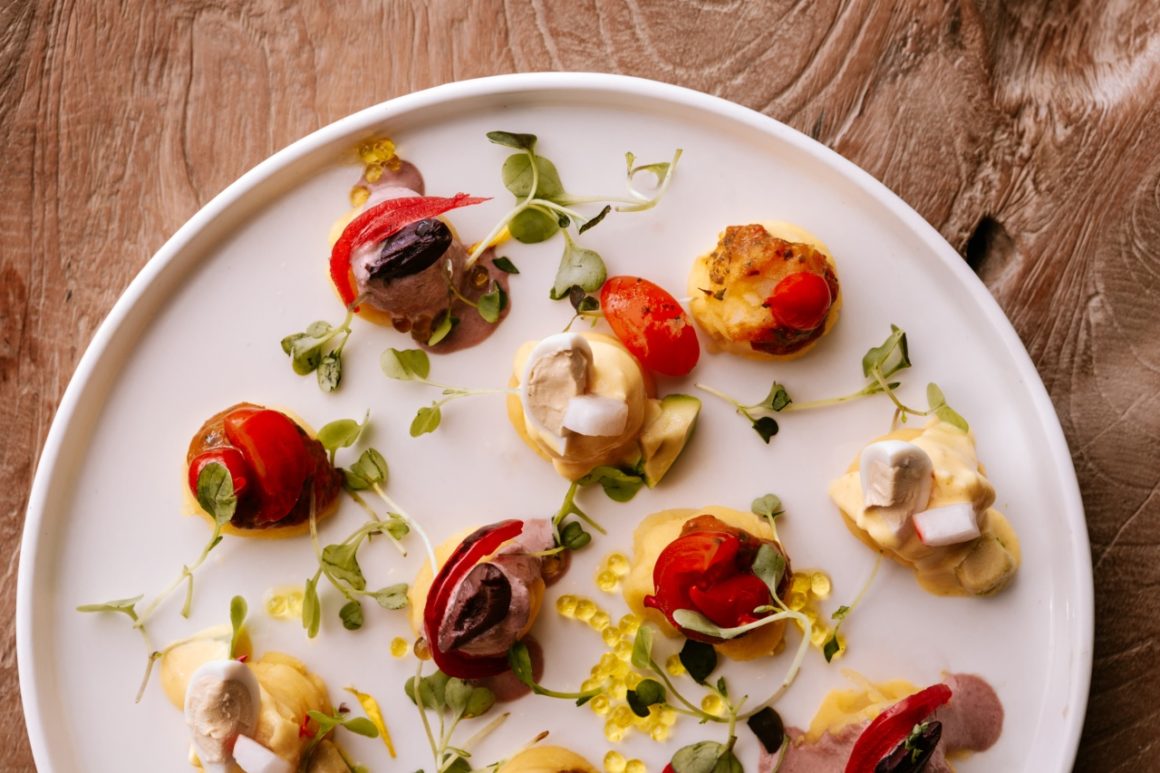 Chi Kee Wun
In a magical setting hidden in a garden in San Antonio, you and your party enjoy traditional oriental flavors with contemporary touches. Upon entering, your mouth immediately falls open due to the breathtaking interior. The presentation of the dishes receives equal attention and is served with utmost care. The menu is inspired by traditional Eastern flavors fused with contemporary accents such as Duck & Truffle Dim Sum, Iberico Pork Bao and Wasabi Prawns with Mango. Those who are hip & happening have undoubtedly scored a table at Chi Kee Wun this summer.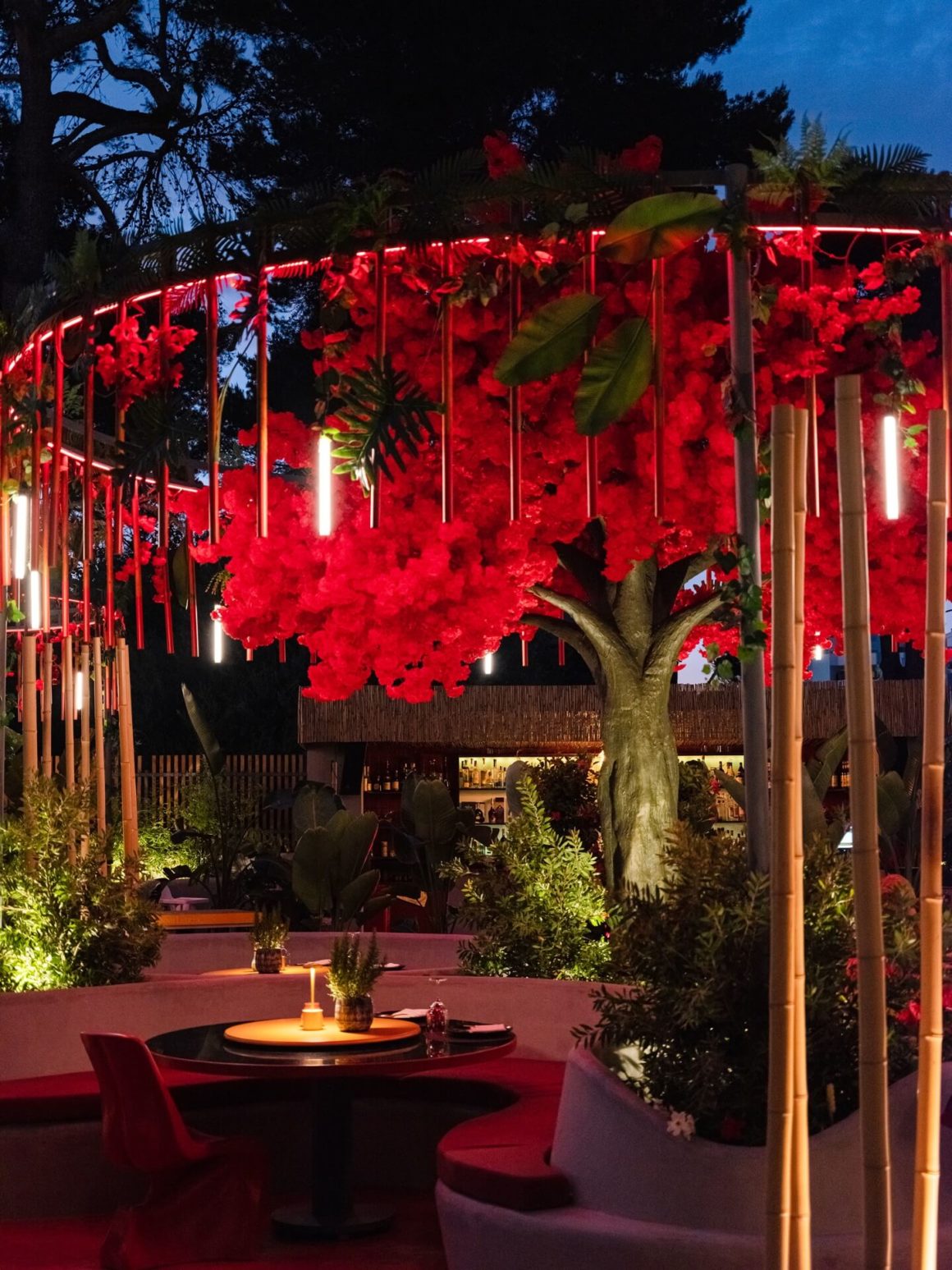 Party Like it's 1999
Ibiza is known as the party island and attracts thousands of partygoers from all over the world every year. Ibiza's nightlife is legendary, offering a wide range of clubs, bars and parties that go on until the early hours. One of the most famous clubs in Ibiza is Ushuaïa, located on the beach of Playa d'en Bossa. This club is famous for its huge outdoor stage and is known as one of the best places to party on the island. Ushuaïa is also home to legendary French DJ David Guetta, who regularly performs for sold-out crowds. If you are looking for an unforgettable night out in Ibiza, Ushuaïa is definitely worth a visit! Check out our video coverage of the closing party at Ushuaïa in advance:
Hotels
Grand Paradiso Ibiza
Well in to crazy color combinations, glitter balls, busy prints and pastels? Then be sure to book a stay at Grand Paradiso Ibiza. A pink Cadillac doubles as a jacuzzi, your room sparkles thanks to the disco ball and mirrors behind your bed and no every corner in the hotel is white. The decor is inspired by 1980s America and screams Hollywood. Around every corner lurks a source of inspiration in the form of art, architecture, music and gastronomy. For a moment, imagine yourself in LaLa land in the middle of Ibiza. Discover more here and feast your eyes.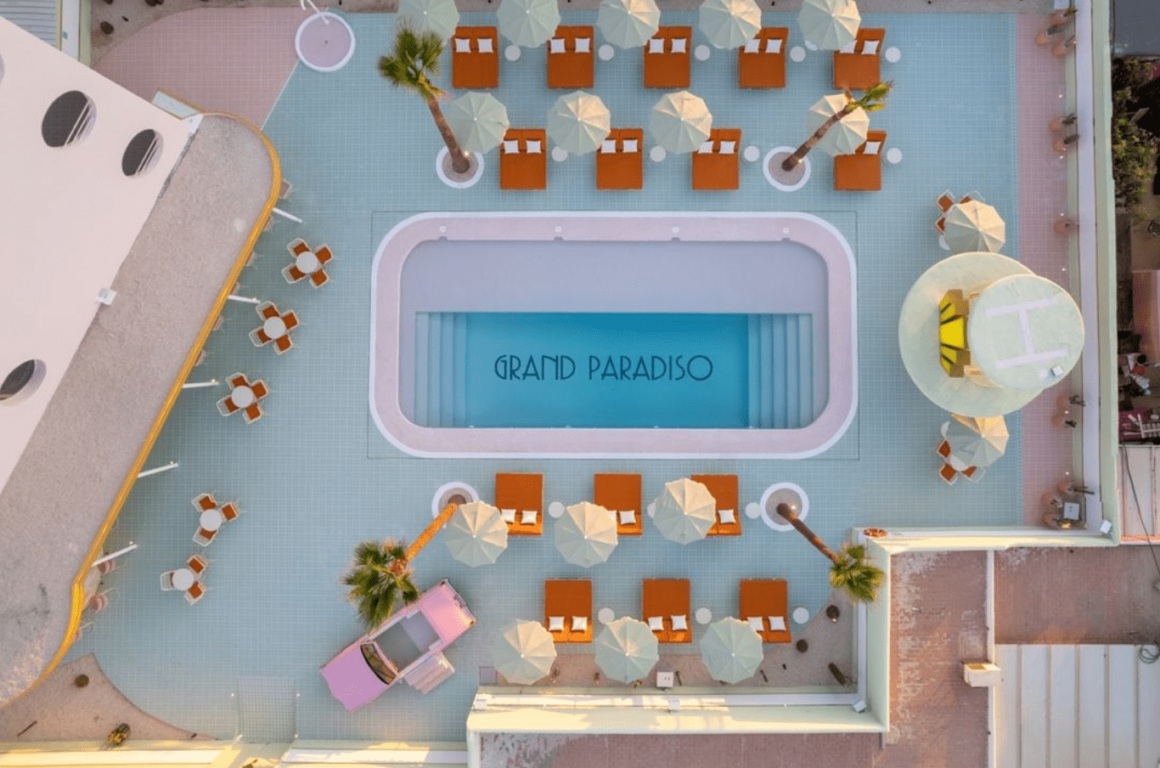 Six Senses
At the bay of Xarraca you will find the first sustainable restort in the Balearic Islands: Six Senses. Room rooms are decorated with local materials, combining the aesthetic elements of a traditional Finca with modern design. Most rooms have their own private terrace with views of the sea AND the sunset. Enjoy four restaurants, two bars, outdoor pool, SPA and more. Traveling with a large group of friends or family? In the exclusive mansions you will find the space you need to reconnect with each other. Far away from everyday reality.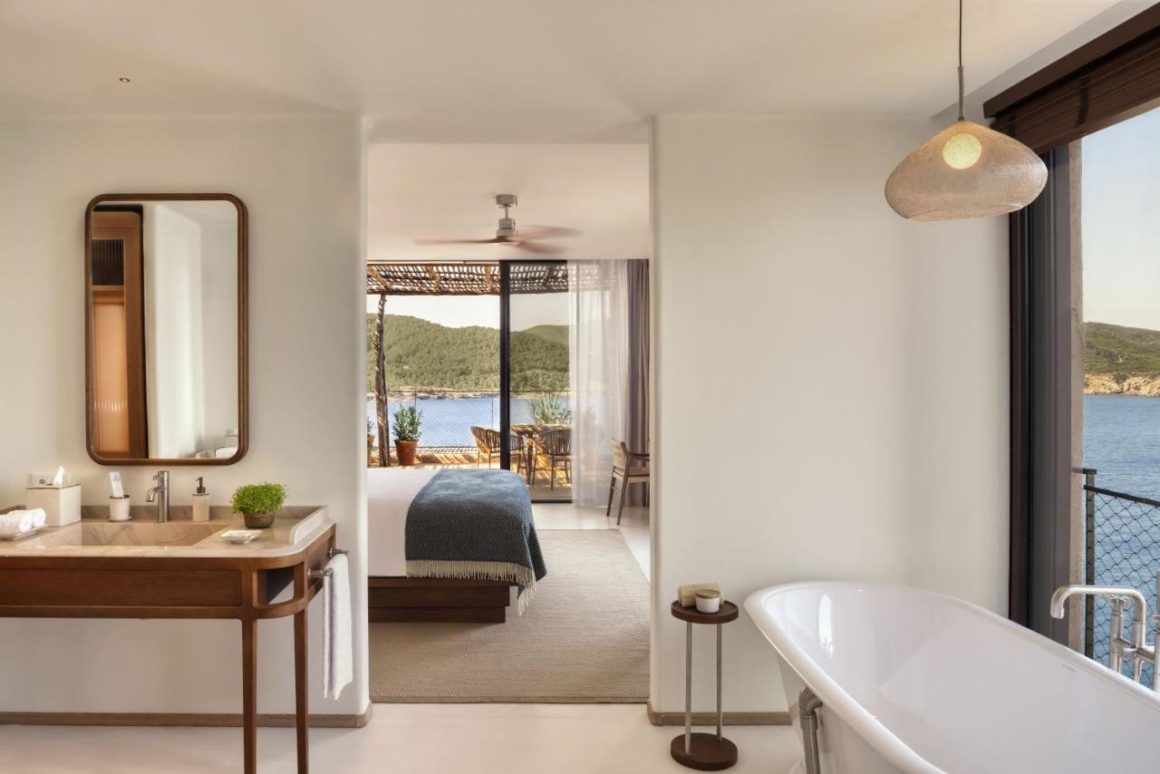 OKU hotel
Walking distance from the beautiful Cala Gracio bay, OKU is tucked among the hills. A minimalist bohemian style ensures you enjoy the best of the Ibiza lifestyle. The nature-inspired design will have you feasting your eyes and marveling at each new corridor you enter. You choose a rooftop room with panoramic views, a room with its own pool or private four-bedroom villa.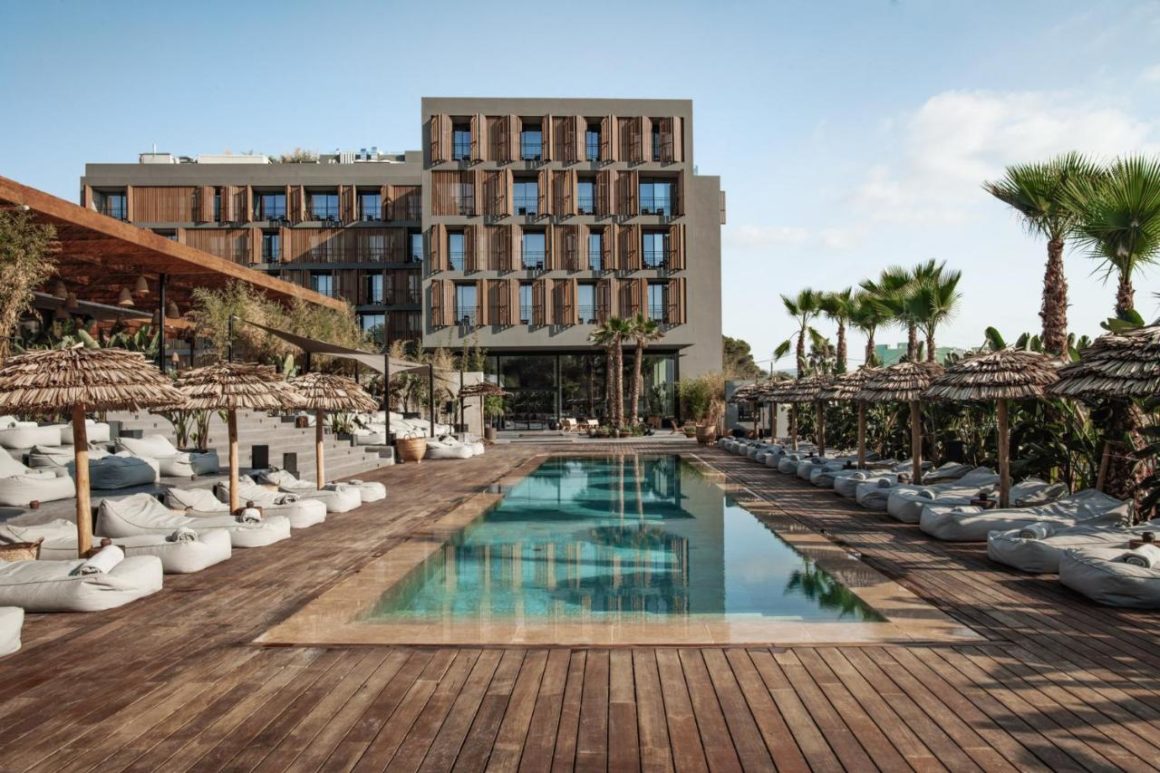 The hotel offers what you expect from a five-star retreat such as morning yoga, luxurious pools, spa treatments, restaurants with fresh food and so much more. The resident DJ ensures that the Ibiza feel is totally brought to life during the setting sun.
Nobu Hotel Ibiza Bay
Nobu Hotel Ibiza Bay is located in idyllic Talamanca Bay and is one of the méditerranée's most luxurious resorts. You will experience that right when you arrive, as you are welcomed here with a glass of bubbly. Then head to your room, a delightful oasis with white, gold and blue accents, where floor-to-ceiling windows let in natural light and you can fall asleep at night with the sound of the sea in the background. Enjoy a day by the beautiful pool or book one of the Self Space sessions that focus on various topics, with a focus on well-being. More up for adventure? The Holistic Hike Retreats offer guided hikes to Es Vedrá, Portal del Cielo & Natural Spa, among others. Have lunch or dinner at one of the three restaurants: Nobu, Chambao or in their new pop-up concept. The location of Nobu Hotel Ibiza Bay is ideal: near the airport and Ibiza town, but in the shelter and tranquility of the bay.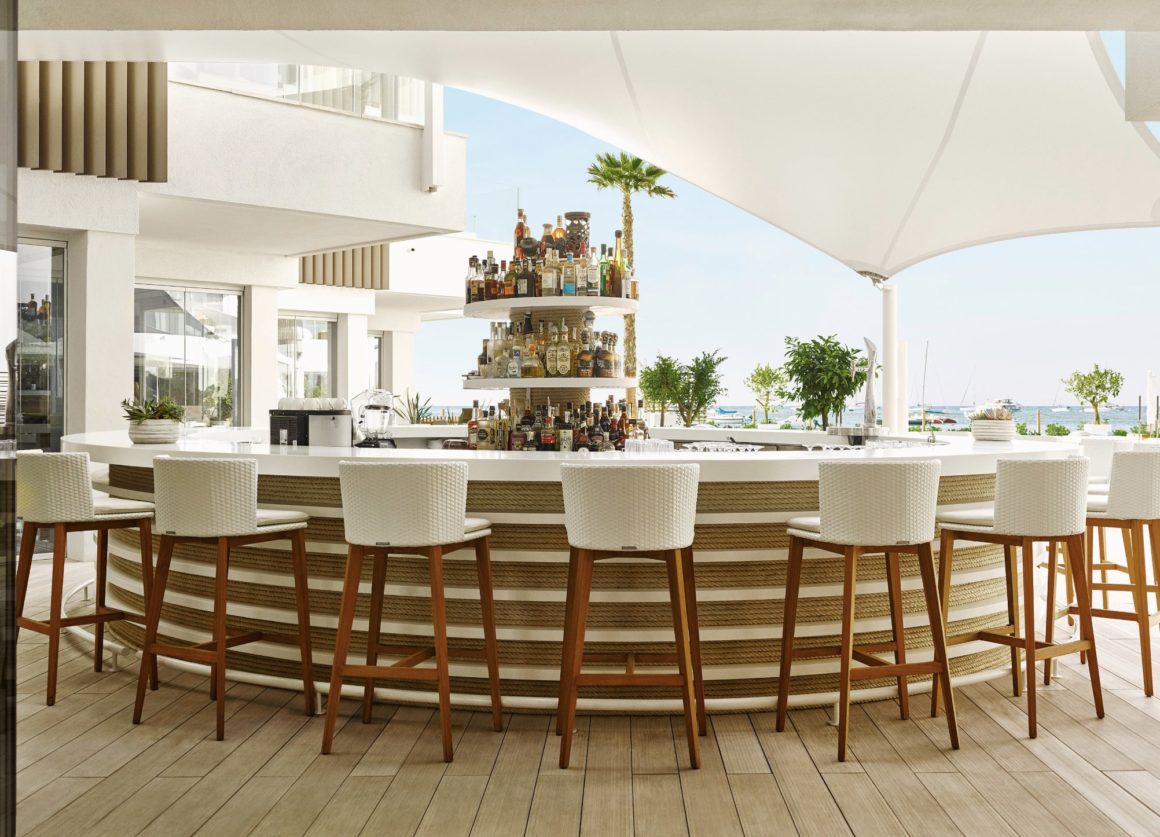 Shops
Es Cucons La Tienda
In the idyllic village of Santa Gertrudis, you'll find Es Cucons La Tienda. The cozy store sells interior items, rugs, clothing, jewelry and more. A separate corner with toys for the kids, all in Ibiza style, of course.
Le Studio
Calling all colorful guapas ! Le Studio Ibiza, in the middle of Ibiza town, screams extravaganza. Think fluorescent dresses, glitter heels and handbags full of pearls. Planning a bubbly party? Then this is the place to be to score your full outfit.
Vicente Ganesha
After one look at its Instagram page, you wouldn't expect it, but celebs like Kate Moss and Dua Lipa buy their flowy summer dresses from this sweet man. Walk into the wonderful world of Vincente Ganesha and be amazed by unique dresses you'll cherish for a lifetime.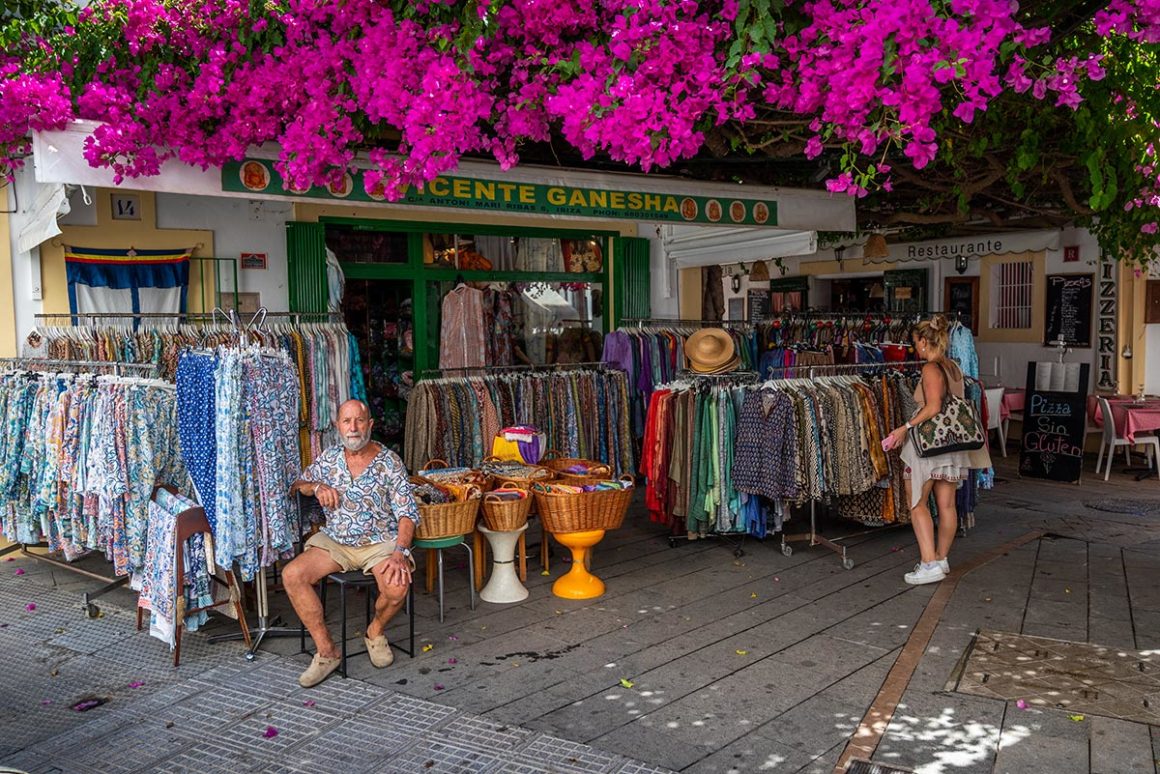 Hotels
Grand Paradiso
Six Senses
OKU
Nobu Hotel Ibiza Bay
Shops
Es Cucons La Tienda
Le Studio
Vicente Ganesha

Beach clubs and restaurants
UHLA by UM
K.OBA by UM
Fico
Casa Jondal
Amante