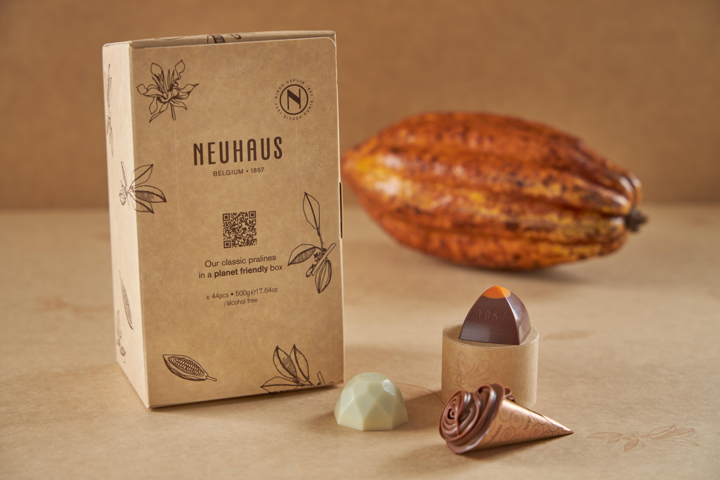 As the inventor of the Belgian praline, Neuhaus is a symbol of innovation. But exactly what innovation means today means something different from what it meant in the days of Jean Neuhaus. Our planet is getting harder and harder, and so nothing is more innovative today than doing your bit for a greener future.
Sustainable Chocolate, Happy Planet
Maybe you already knew that Neuhaus makes some important promises in terms of sustainability. Neuhaus chocolates are made with 100% natural ingredients and sustainably grown cocoa. No palm oil, no GMOs, no artificial colourings, only pure ingredients that guarantee the quality of each praline.
In addition, Neuhaus has been working on making packaging more sustainable for a while now. Neuhaus packaging is often intended as gifts, which complicates this sustainability mission – after all, the eye wants something too. Nevertheless, Neuhaus manages to design beautiful gift packaging using FSC-certified paper, recycled plastic and biodegradable materials. But of course there are also people who buy chocolates just for themselves. With the Planet Friendly Ballotin, the classic chocolates are now also offered in a simpler, eco-friendly packaging.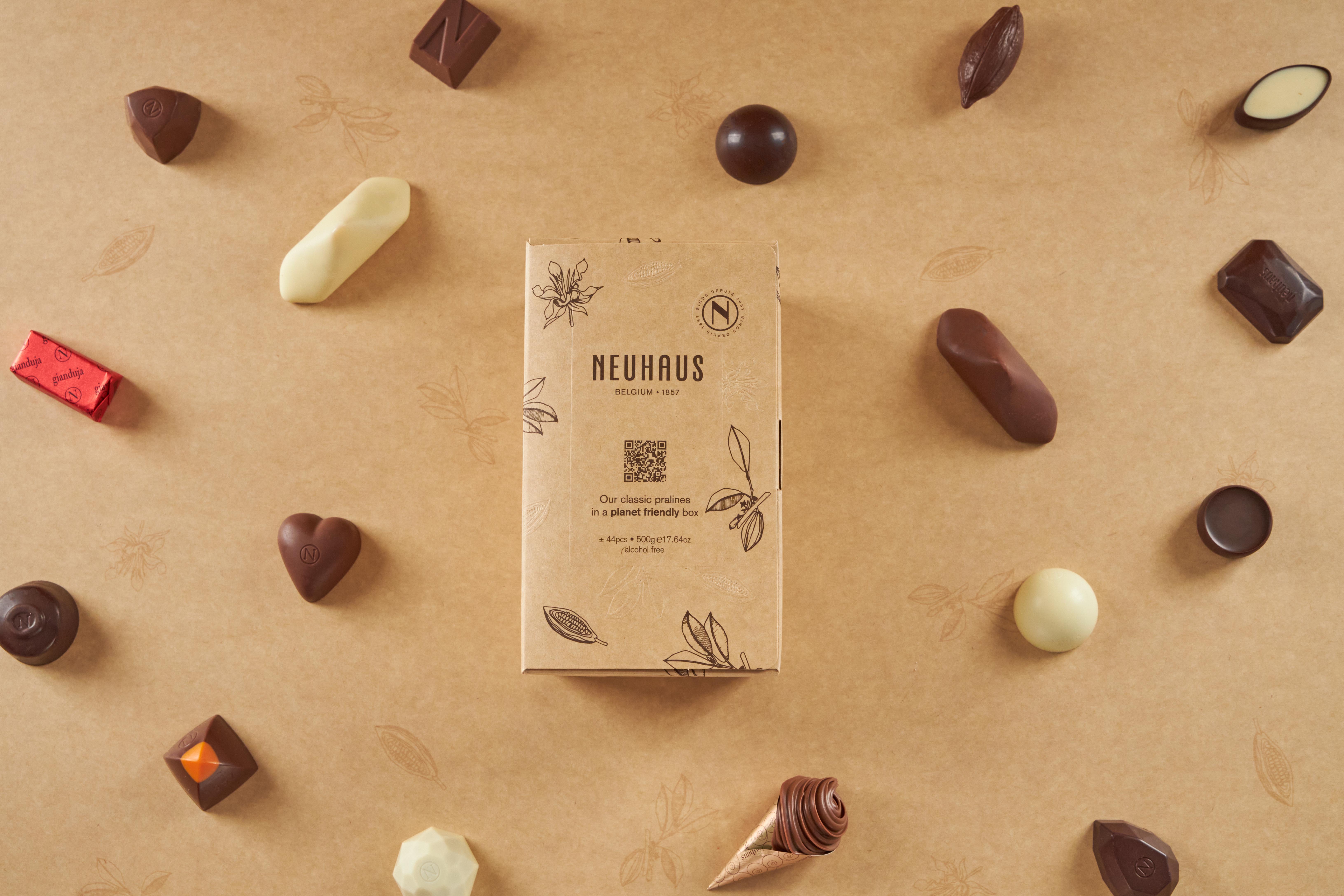 Iconic chocolates in special packaging
In 1915, Louise Agostini, wife of Jean Neuhaus Jr. designed the very first ballotin to protect delicate chocolates during transport. To give the planet a helping hand, Neuhaus has now developed a simplified alternative made of FSC- and EU Ecolabel-certified cardboard. What Neuhaus uses is made from unbleached wood waste and is 100% recyclable, right down to the glue. The design consists of embossed elements and non-harmful print. For the Planet Friendly Ballotin, no gift wrap or ribbon is used either, and no leaflet is included. This ballotin contains only the essentials – a selection of 44 iconic chocolates, filled with praline, ganache, gianduja and caramel.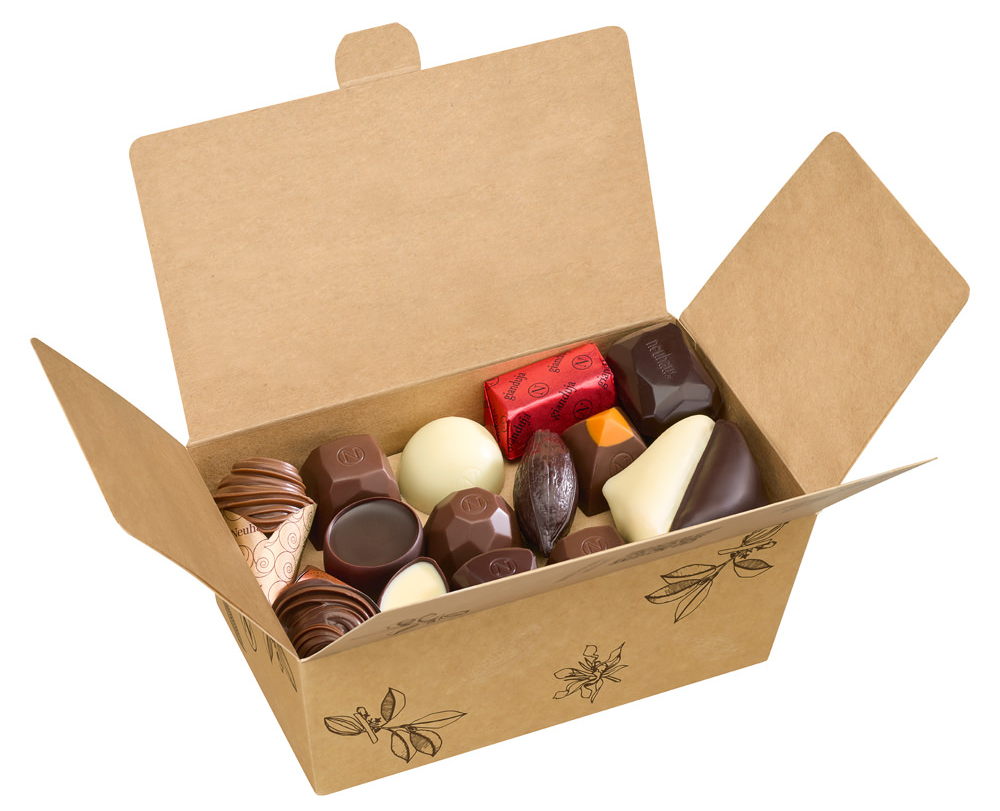 Neuhaus and Go Forest: a collaboration bearing fruit
All packaging costs saved with the Planet Friendly Ballotin will also be invested in planting cocoa trees. In partnership with Go Forest, Neuhaus is investing in a cocoa plantation in Madagascar. Neuhaus draws ingredients from the earth, and so they feel it is important to give something back. Moreover, the proceeds from this plantation go entirely to the workers who harvest the cocoa and maintain the trees.
Go Forest is a sustainable partner for companies that want to be in the world in a forward-looking way, and Neuhaus is definitely one of them. "We are incredibly happy to assist Neuhaus as a partner to give back to our planet," said Sarah Parent of Go Forest. "As a company today, it is crucial to have a good understanding of where your impact lies and how to put a positive spin on it. The Planet Friendly Ballotin sends a clear message to the world that it is time to take action now."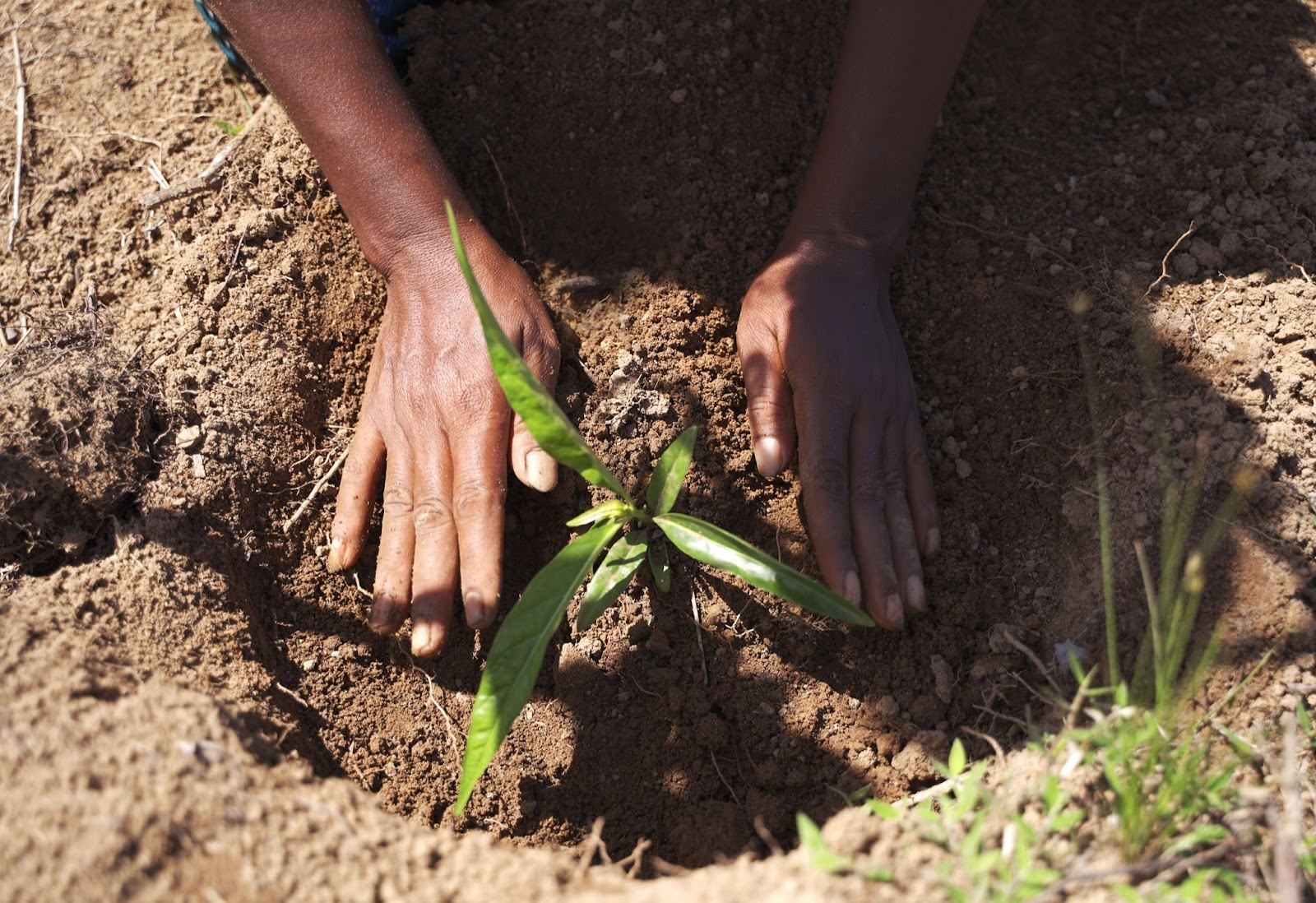 Sustainability makes it extra cosy
Do you enjoy having guests over? And do you like to serve them delicacies in an elegant and sustainable way? With the Planet Friendly Ballotin, you can easily refill your sustainable Hosting Box without unnecessary packaging. Because doing good for the planet, that tastes like more.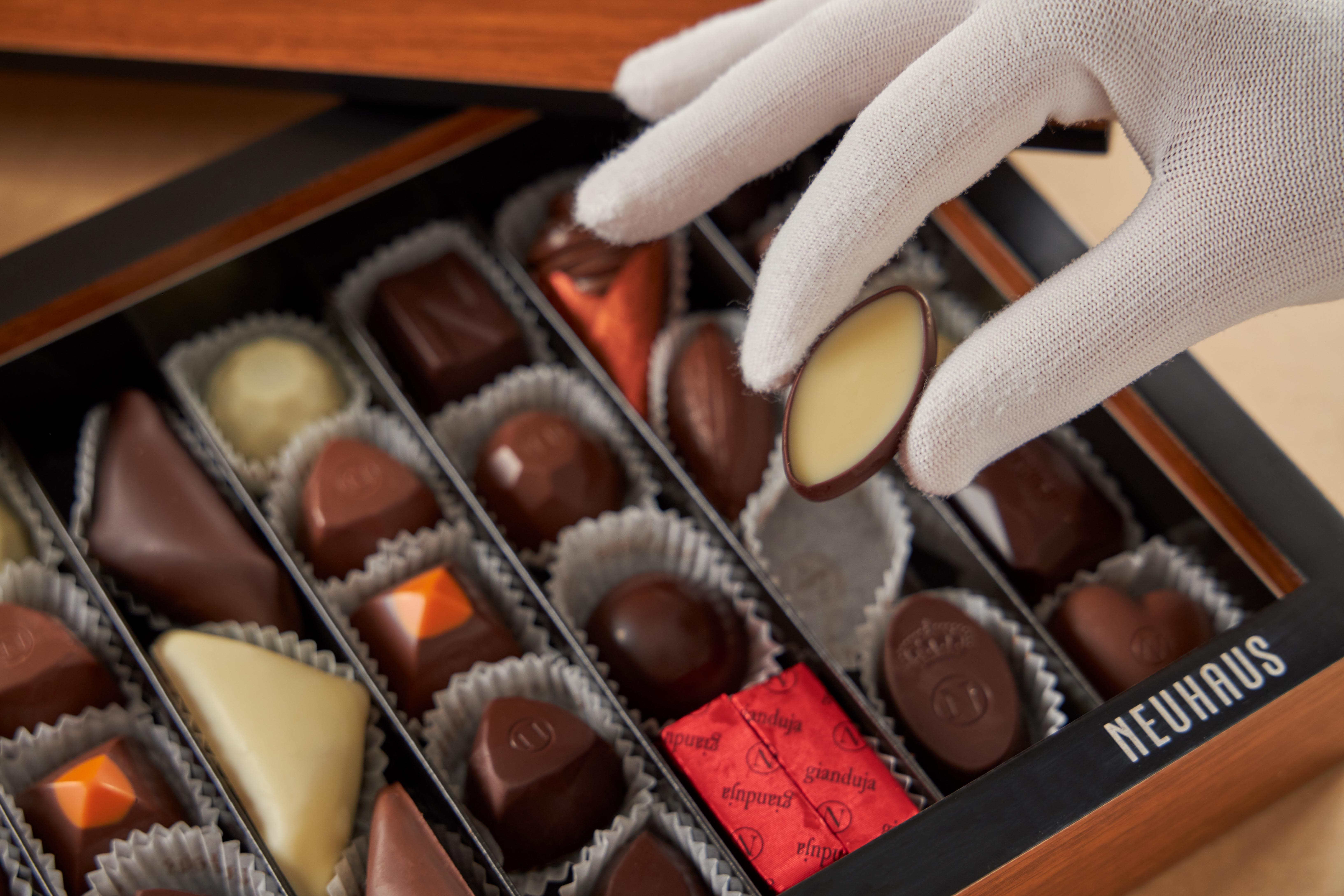 Summarising: this is how Neuhaus is helping to create a more sustainable world
Neuhaus chocolates are made with 100% natural and sustainably grown ingredients. No palm oil or GMOs, no colourings.
Packaging consists mainly of recyclable plastic and FSC cardboard. The Planet Friendly Ballotin now offers a simplified, more sustainable alternative made from wood waste.
Neuhaus aims to achieve 100% traceability by 2025. In this way, the company is fighting for better working conditions on plantations and against deforestation.
The Planet Friendly Ballotin is available at all Neuhaus boutiques and at neuhauschocolates.com.
Price:
Planet Friendly Ballotin 500G: €41
Hosting Box + Planet Friendly Ballotin 500G: €83