The last few months we have spent a lot of time indoors. Maybe that's why you've had it with your current interior and you need some unique pieces to bring a breath of fresh air into your home. That's why we went looking for some nice design brands to give your interior a bit more spice. No boring lamps with ordinary lampshades, but monkeys swinging on your wall and brightly coloured chairs at the dining table. Curious about what we mean by this? Be sure to read on!
1. Seletti
Seletti is a brand with Italian roots that brings a unique touch to your interior. Their range is very varied: furniture, lamps, tableware, fun eyecatchers for the table or the cupboard… A lot, in other words. Now, they all have one element in common and that is that they are innovative. Nothing seems what it is. Our favourite is their lighting, which uses monkeys, mice or even bananas as light objects. Brilliant, in every sense of the word. Interested in a swinging monkey? Prices start from +/- 300 euro.
More info here: https://www.seletti.it/eu/
2. Qeeboo
The next topper is Qeeboo, a brand that, like Seletti, is innovative and out of the ordinary. The founder of the brand is Stefano Giovannoni, once a great designer at the interior design brand Alessi. Qeeboo has not yet existed for very long, but has already earned its name and fame. Here too, we are talking about Italian design, which is of course renowned for quality. An iconic piece of Qeeboo is the Kong lamp, a beautiful piece of design that puts your interior in the spotlight. Prices of a Kong lamp start from +/- 240 euro for the smallest model, but can easily go up to 1190 euro for a giant one in your living room.
More info here: https://www.qeeboo.com/
3. Moustache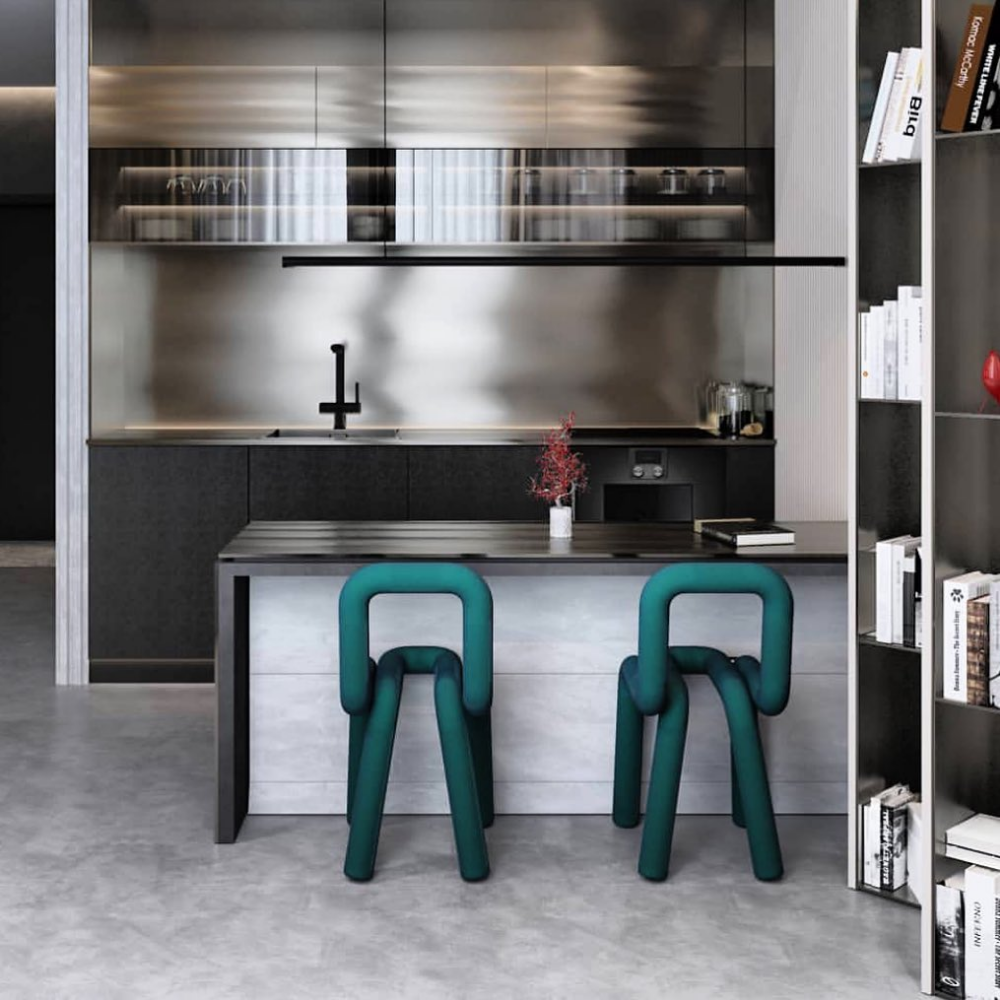 Moustache is a French design brand founded in 2009 in Paris. Over the years Moustache has become a well-known name in the interior design landscape. The brand collaborates with a number of carefully selected designers, including Big-Game, a design studio in Lausanne (Switzerland). In collaboration with this design studio, the iconic Bold chair was launched in 2009. This chair resembles an upturned paperclip and consists of tubes that are pushed together. A beautiful piece of art, so it will not surprise you that the Bold series has already been included in the collection of the Museum of Modern Art in New York and other famous museums of decorative art. For around +/- 420 euros, you can get this unique piece in your home.
More info here: https://www.moustache.fr/en/
You want some more inspiration? Then make sure you read our other articles within PureLiving, and who knows, you could soon be living in a completely new interior!