italian shipping company MSC christens its most advanced climate-impact ship with MSC World Europe on the occasion of the Qatar World Cup.
A lot has already been written about the World Cup that kicked off in Qatar. Whatever the case may be; the world's biggest sporting event will visit the Arab world for the first time in its history. Qatar expects some 1 million football supporters from all over the world in the coming weeks. And with that, of course, hotel capacity is also lurking around the corner.
Enter the helping hand of shipping companies that are only too happy to lend their 'floating hotel' to Qatar to overcome the shortage of hotel rooms. The flagship, to be taken literally this time, is undoubtedly the MSC Worldwide Europa, christened for the occasion in Doha, the capital of Qatar. But is it really true that a ship can be called a 'floating hotel'? We went to investigate and brought you this report.
Partners in pleasure
Flying to Qatar well you do….with Qatar Airways. Qatar's national airline has already been voted best in its category several times. And it must be said that the whole experience felt very luxurious, even though we travelled in economy. The planes are equipped with the latest technology, think big multimedia screens and so on. But at the same time, the high level of service also stands out. The staff are numerous and clearly haven't forgotten their smiles. The catering offer also excels in generosity and the quality of meals and drinks certainly exceed industry standards. It would be a prelude to what we would get to experience on MSC's brand new ship. Not coincidentally, MSC and Qatar Airways would turn out to be partners in crime euh pleasure.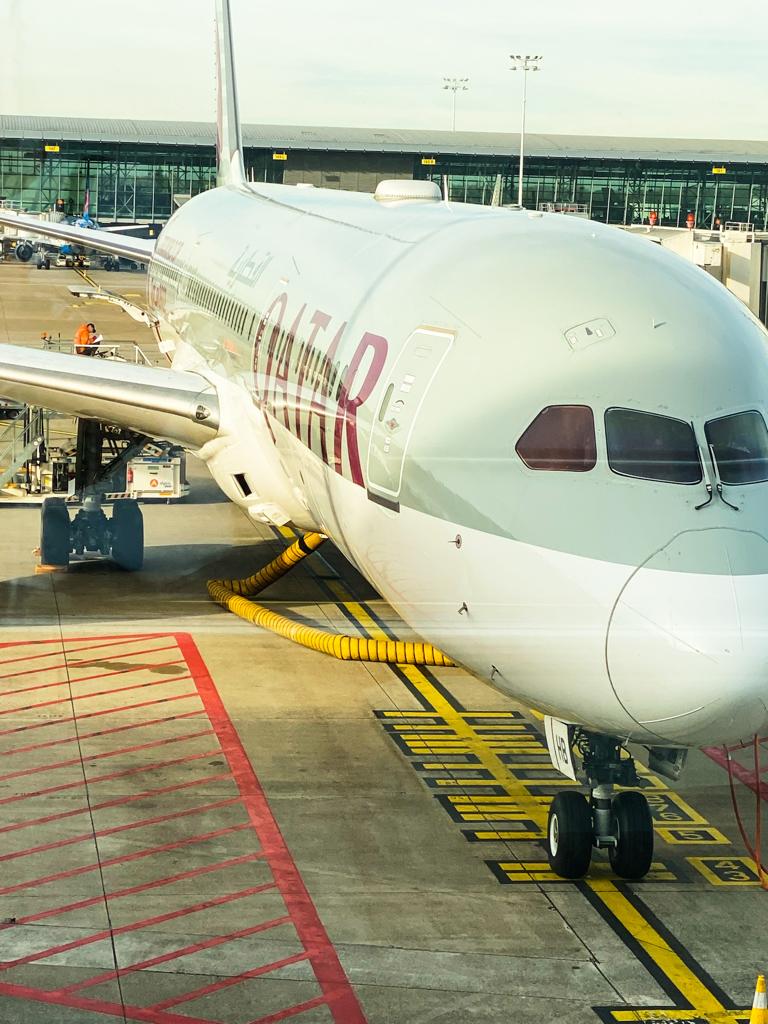 Luxury is service
After a pleasant 6-hour flight from Brussels to Qatar, we find ourselves in the large and gleaming reception hall of Qatar airport. after doing our duty at the Qatari immigration service, we board the bus towards the ship. On arrival, MSC World Europa, this new maritime gem, is actually hidden behind a stately terminal. That in itself is a cabinet piece of Qatar knowing that behind there is a twenty-two storey ship. In perfect parallel to our aeroplane experience, here too we are met by many smiling staff members of MSC.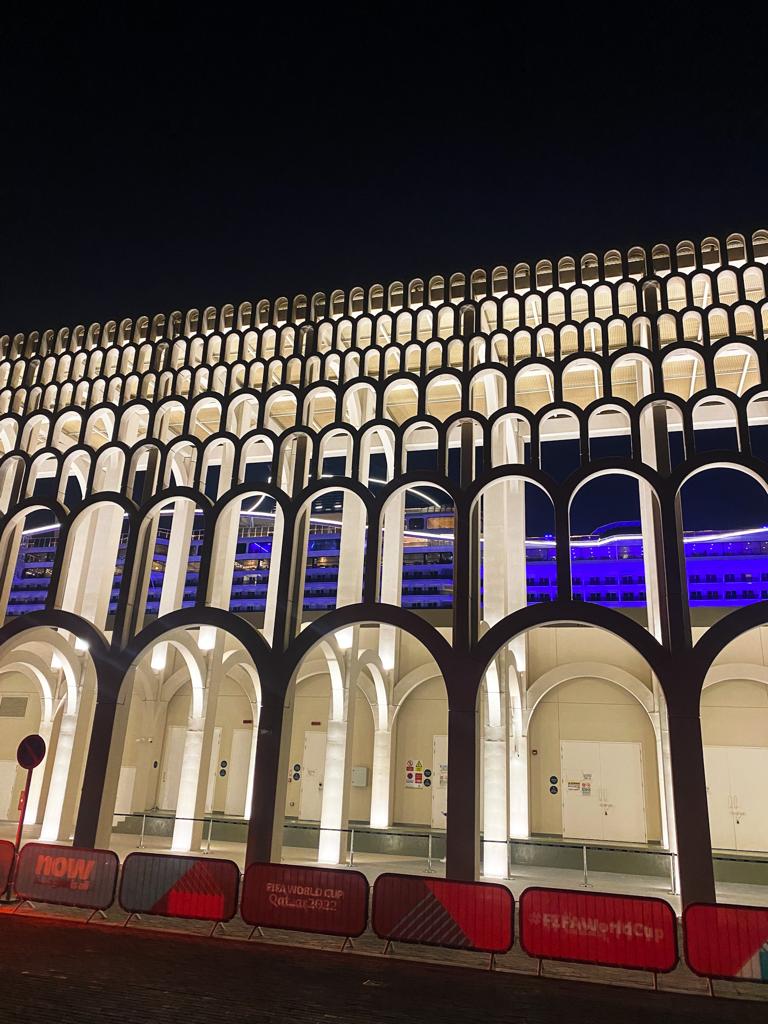 It is an entry that we have rarely experienced before. Upon beholding and entering the ship, we are overwhelmed by the dimensions of the structure. Even with the biggest 'zoom-out' feature on our phone, we can't get it in the picture. But despite the ship's terrifying size (68 metres ed.), you get around the hulk relatively quickly. We are told, for instance, that you have a couple of central floors that serve as a kind of 'main hall'. From there, you can easily navigate to the other floors where the bedrooms, or rather cabins, are located. On other floors, in turn, you will find the various dining and catering facilities. But more on that later!
Our door to our room slams open and we are pleasantly surprised by the space we have despite being assigned a standard cabin. The double king-size bed has not stolen its name, the bathroom certainly doesn't feel oppressive and the terrace with a view is a definite bonus. The air conditioning also does its job which is no luxury in hot Qatar. This will be a comfortable place to stay for the next few days. Although, of course, we have come for the on-board experience!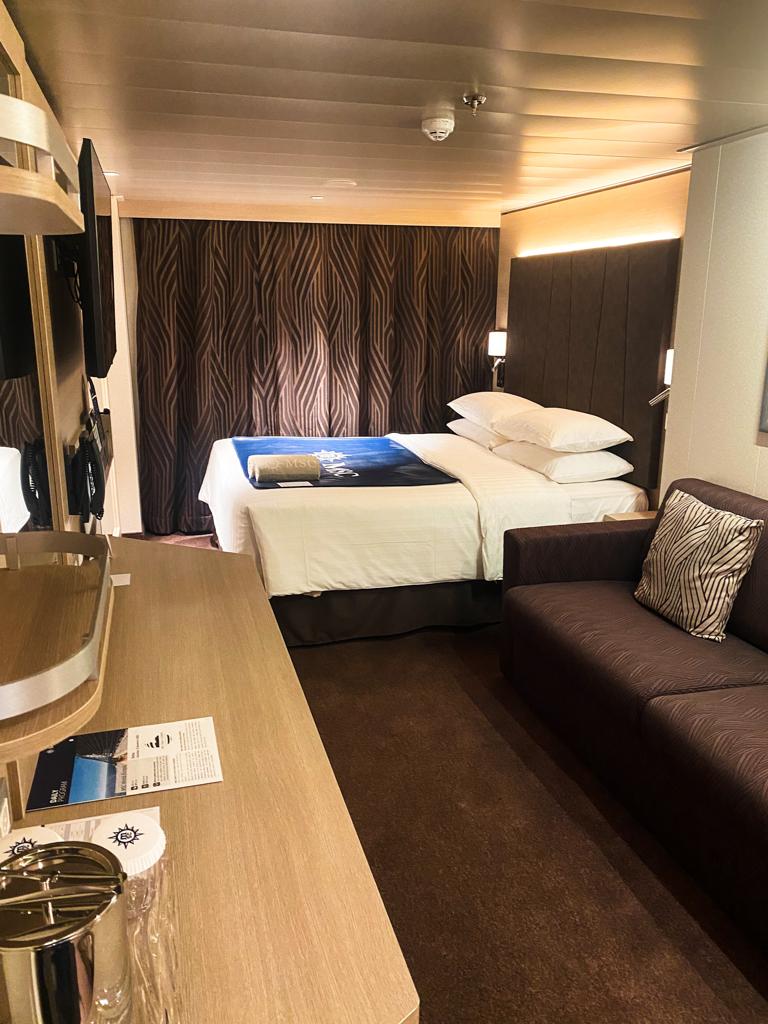 the luxury highstreet feeling on board
As we make our way to the main hall, we are already overwhelmed by the technical marvels. Integrated into the ceiling of the sixth floor is a gigantic LED screen where you can see the better virtual humpback swimming. We are even more impressed when we make our way to the 'promenade'. This is an outdoor deck that looks like a fashion highstreet. Feel like shopping for a luxury watch, go ahead. Or go for a top coffee with accompanying pastry at an ultra premium coffee house? It can feel so real that you forget you're on a ship. Or wait, no you don't, because in which shoppingstreet do you suddenly see a slide of several dozen metres coming down…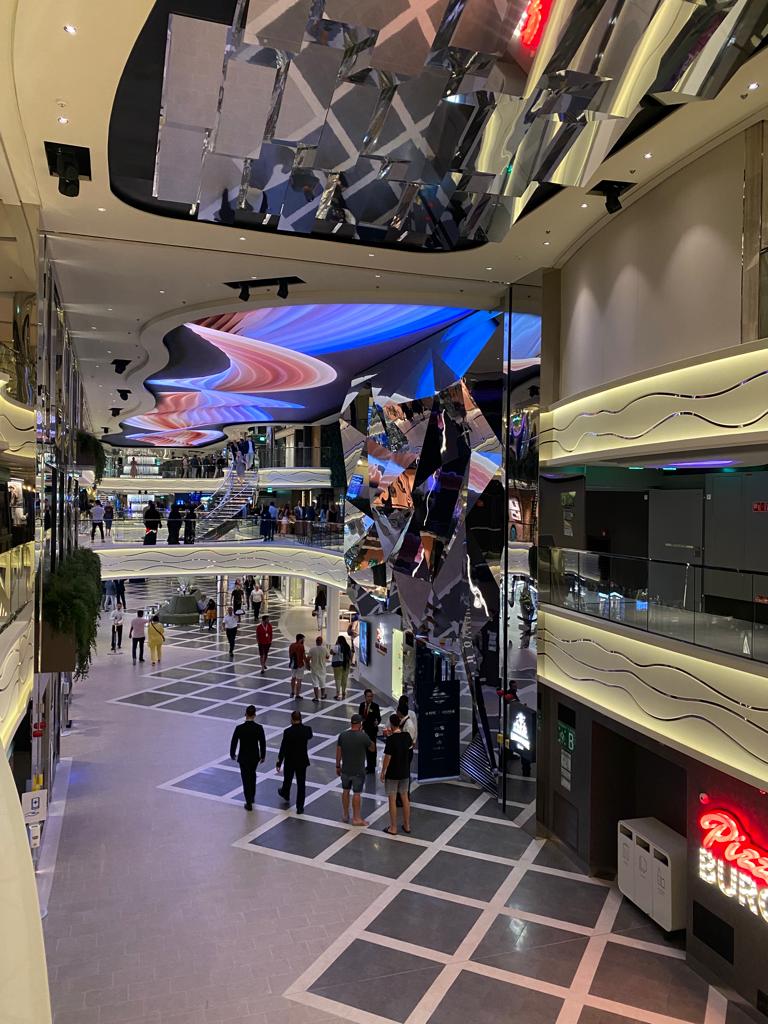 foodies heaven
If we want to make the comparison with a hotel, the food & beverage offer is obviously an important parameter. When we take our first look at the floor plan as our stomachs growl, the stress of choice already overwhelms us. With its 20 bars and 13 restaurants, you will certainly get your money's worth here. The entry-level restaurant is the buffets section, accessible almost nonstop. The quality of these buffets is so good and varied that you almost start to hesitate to explore the other options. Fortunately, our inner gastronome overcame our easy-going selves. Divided over several floors, you can go for the teppanyaki tricks of the Japanese, you can go try the guacamole and tacos at the Mexican or let yourself grill the better aged piece of steak at the steak restaurant, the 'Butcher's Club'. After a thorough inspection of your server, we can confirm that each restaurant is top notch in its category.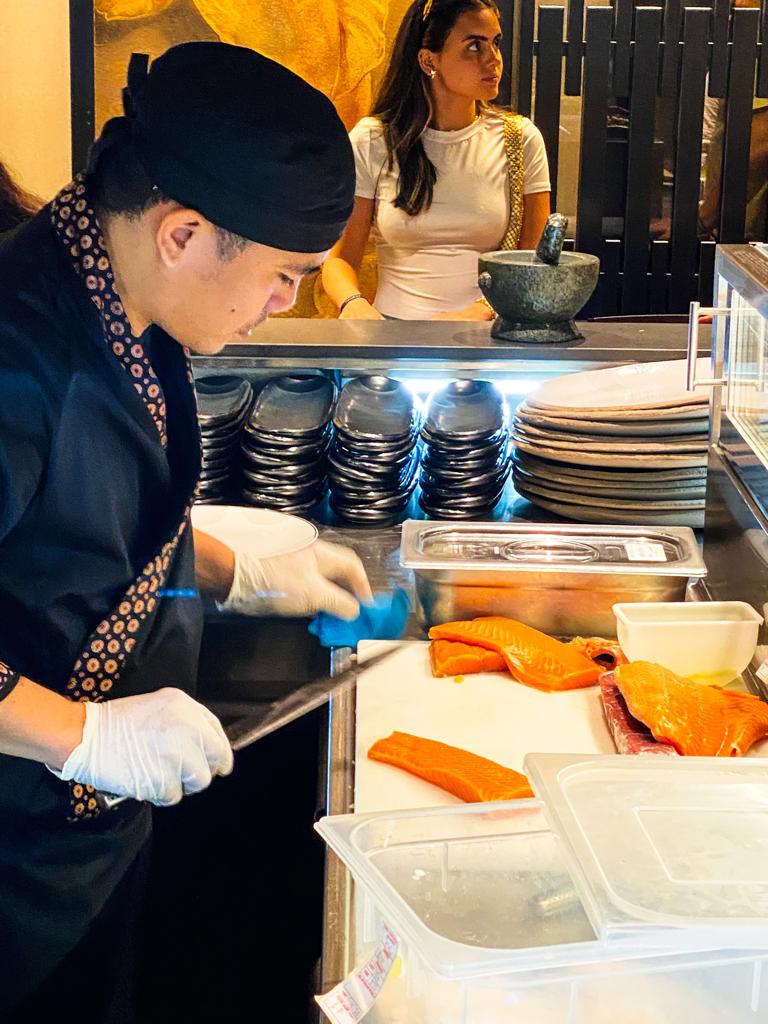 And what about the drinks? Well there too, the offering is huge. Throughout our trip, we mentally balance between the better cocktail bar, the champagne lounge or the extremely cosy beer bar. Oh yes, we forgot the whisky and cigar lounge, completely immersed in a roaring twenties atmosphere. Of course, all this raises the question of what all this should cost. The cruise prices include the food all-in as standard, that is, the buffet offering. If you want an extra taste of the culinary offerings in the themed restaurants afterwards, this comes as an extra. However, prices at these restaurants do not swing wildly. Ditto for the drinks on offer: for €30 per person per day, you have an all-you-can-drink formula including soft drinks and local alcoholic drinks and cocktails.
luxury becoming accessible to all
When asked about the pricing, Benelux country manager Frank Van den Steen told us the following: "Today we can really say that cruises, even in the higher segment, are becoming an affordable option and alternative to other trips. To give you an example; today you can book a 7-day cruise departing from Zeebrugge and visiting various countries in the North Sea for 350 euro per person. Including all-in food. For this price, you cannot yet book a stay in a Bungalow park. And then, of course, with the latter you don't include food". Asked about the impact of the recent corona and Ukraine crisis on pricing, Van den Steen confirms that they too felt compelled to increase their prices but that by the end of 2022 they will be back at the same level as in 2019, which few other sectors can say.
Naturally, the above prices are valid on the more standard cabins, because just like in the better luxury hotel, you can add to your personal experience and comfort significantly.
entertainment of the highest level
To make days at sea as useful and, above all, enjoyable as possible, MSC unpacks on their brand new ship with a top entertainment offering. Throughout our exploration of the ship, we tumbled from one surprise to another.
For the water rats among us, there are several pools available, with or without entertainment around the pool. In addition, you can allign your inner chakras back by going to enjoy the extensive wellness offerings including several whirlpools with sea views. The families with active youngsters can have fun in a real water park with the spectacular highlight being the slide that gives you an incredible drop!
After all this water fun, those who prefer to hit the dry land can do so at a real indoor roller skate track, have fun at the luna park or watch one of the dazzling shows in the main theatre.
next level luxury at the Yacht Club
Unterschied muss sein. Even on a luxury ship like the MSC World Europa, you can take the ultimate luxury experience a step further. Luxury is definitely also tranquillity and that is what you actually buy at the 'Yacht Club'. Within this 'ship within a ship', you suddenly get an extra sea of space and that both in the staterooms on offer and in the facilities. Think extra pools with private lounge sofas or the private dinner restaurant with butler service. The question then is whether you want to get out of this cocoon at all…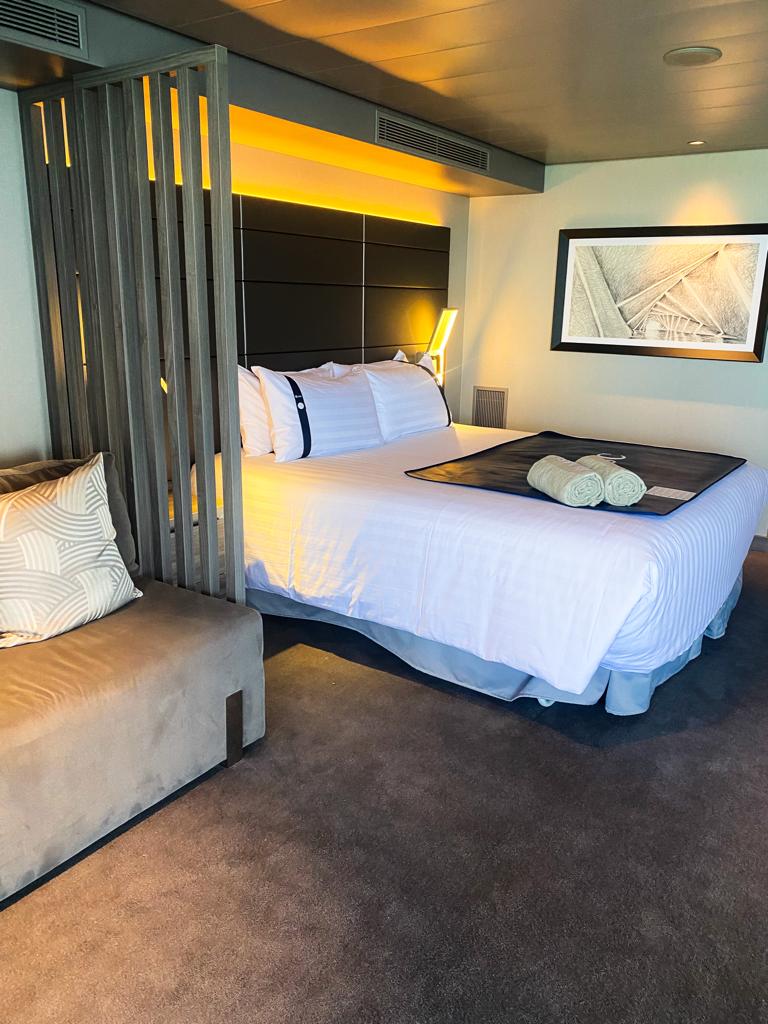 The new luxury is environmentally conscious
Luxury today will be environmental awareness or it will not be. That adage applies to all economic sectors today but perhaps just a little more so to the luxury sector. If we still want to continue enjoying all the beauty and delicacy the planet offers, let it be with respect for the latter. In the cruise industry too, they have understood this very well. A revolution that was necessary for an industry for which criticism was not spared.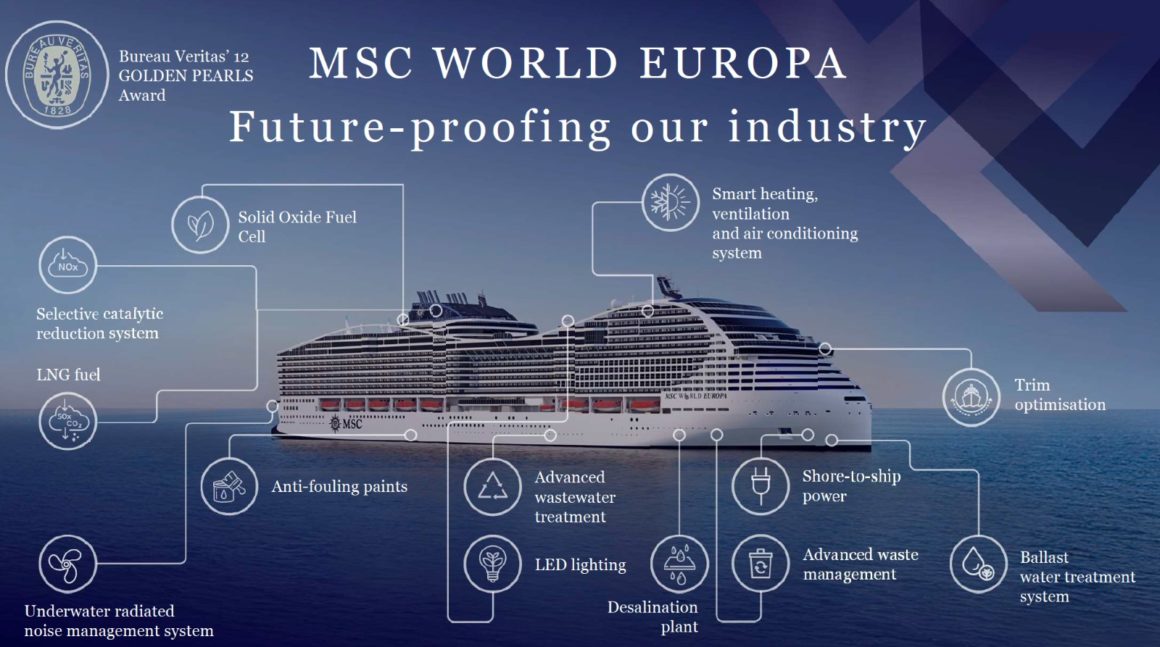 At MSC we have witnessed for ourselves that this turnaround has become more of a centrifuge with the objective of making all their ships C02 neutral by 2050 with an intermediate objective of their fleet emitting 40% less by 2030. They won't do that at MSC by buying healthy air elsewhere, but they will put plenty of effort into new technology. In the ultimate course, excusez-nous le mot, towards zero CO2 emissions by 2050, they are already switching to 'low emission fuels' of the latest type along the way. Furthermore, every millimetre of technology in the ship is being rethought to reuse energy. The MSC World Europa is the first ship to be maximally equipped with the newest technologies. Consider even the possibility of the ship literally plugging itself into the port's power in order to stop consuming fuel. All this makes this ship the lowest emission standard per passenger worldwide today. Something they at the Italian shipping company can rightly be proud of.
Qatar, a start but not a finish
---
""You can't change the course of a ship by standing on land, you have to be on board for that."

– Frank van den steen – country manager benelux Msc
---
The inauguration of this new luxury flagship took place not entirely by chance in Qatar, host country of the 2022 FIFA World Cup. When we gently sound out country manager Frank Van den Steen as to whether they at MSC think it's ok to be ashore here, his answer is as sharp as it is clear: "The MSC ship is here because it has been chartered by the executive committee hosting the World Cup to serve as an additional hotel facility. But the question is, if you want to make an impact, do you do it better from home or by being here?" "You can't change the course of a ship by standing on land, for that you have to be on board."
It should be clear that, as for Qatar, MSC World Europe is not a 'final destination'. For the former, it is a starting point towards a more open worldview with football as the ultimate catalyst. For MSC, it is the starting point of a gear up towards even more experience in an environmentally conscious way.
Note from the editor: our editor-in-chief Wim De Schutter, like other journalists, was invited to meet the ship. There was no financial compensation in return for this article.
More information and bookings: http://bit.ly/3OgVs66