Roof terraces capture the imagination. They allow you to create your own world with stunning views of the surrounding area, and they're the perfect place for drinks or dinner with a view. Here are eight of the most beautiful rooftops in Europe.
Not so savage at Savage Garden in London
London's wildest rooftop bar, is how they describe themselves. It sets the bar high, but they can easily meet it. On the twelfth floor of DoubleTree by Hilton , everything is geared toward the unexpected: savage cocktails from Gorgeous Group and theatrically arranged plates of food; from before-after to large platters to share. The injectable donuts are now a big hit! Savage Garden is characterized by a brutal interior, where urban is interspersed with velvet plush and marble. Go for a good cocktail or sumptuous dinner, reserve a twisted Afternoon Tea or do a dance when the house DJ plays his records. Are you in London on business? Then go for one of the Savagely Swift business lunches. At Savage Garden, make that big deal with views of The Shard, Tower of London, The Gherkin and St. Paul's Cathedral. www.savagegarden.co.uk
Swim on the roof in Copenhagen
Atop the somewhat kitschy Nimb in Copenhagen, sits Nimb Roof. On this rooftop terrace you can swim, relax and have a drink overlooking the Danish city. Nimb Roof is exclusively open to guests of the hotel and Nimb Club members. Not a guest of Nimb? Then check when Summer in the City events are organized, because then everyone can come and enjoy the rooftop. Think parties during the setting sun, Sunday cookouts and concerts during the Copenhagen Jazz Festival. The emerald green pool is a nice eye-catcher and has a built-in system that allows you to swim against the current. Good for your fitness. Rather lazy than tired? Then lounge on one of the lounge chairs with a cocktail in your hand. www.nimb.dk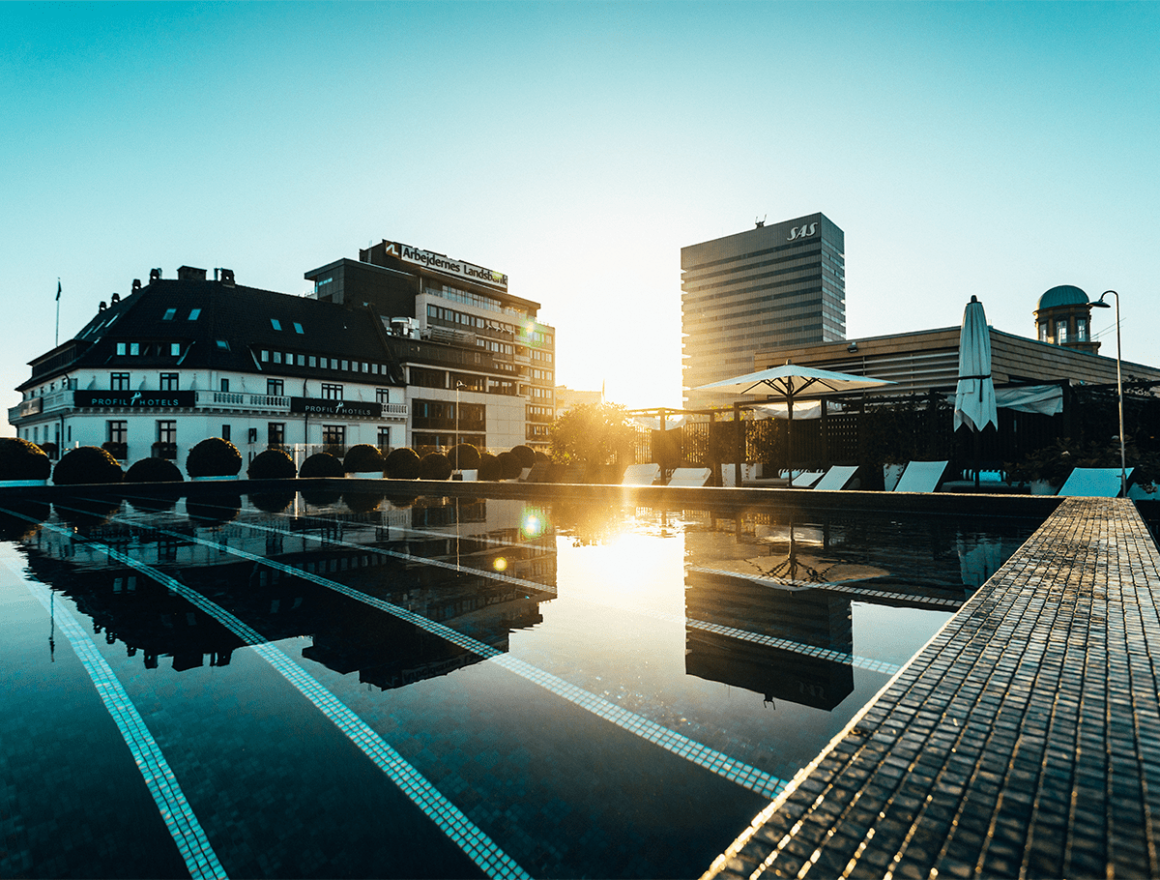 Rooftop Summer Series at Nobu Hotel Ibiza Bay
Nobu Hotel Ibiza Bay is tucked away in the bay of Talamanca near Ibiza Town and is one of the best and mostluxurious resorts in the méditerranée. This year, for the first time, the hotel will open its rooftop terrace to (hotel) guests with Rooftop Summer Series.
Rooftop Summer Series:
The carefully curated series of events in the Balearic island's favourite playground, just minutes from Ibiza's old town, offers a fresh and innovative take on both wellness and a standard night out in Ibiza. From conscious sexuality workshops and sound bath healing to electronic dance meditation and live painting shows with food, drink and music, The Rooftop Summer Series at Nobu Hotel Ibiza Bay is set to become an island hotspot with its panoramic views over Talamanca Bay. Guests are welcome to join the community after each session to relax, socialise and take in the scenery while enjoying exceptional food and cocktails on the rooftop.
SUCO: This unique active meditation combines breathwork, dance and ancient science-based practices with electronic music to create a powerful and immersive experience that leads to a greater sense of connection, freedom and well-being. Each session includes a health shot on arrival, 1 hour of class and a Classic Nobu Bento Box with a Kombucha drink or Japanese Beer. After the session, guests can enjoy food and drinks on the rooftop.
SUCO sessions are available on 14 June, 13 July, 12 August and 10 September.
Sessions start at 20:00, and are open to the public at 21:30
Tickets cost €65 for non-hotel guests and free for hotel guests (food and drink not included)
There will also be inspirational talks in collaboration with Wumanas and 5th House that will give you the tools to take control of mind, body, pleasure and relationships. In addition, Roxie Nafousi, author of the bestselling Manifesto, will be stopping by to sign her book this summer. www.nobuhotelibizabay.com
Middle of Sardinia's history at Le Terrazze Ritual
At Sardinia's Costa Esmaralda sits Le Terrazze Ritual by Andres Fiore. Atop music temple Ritual Club, in an ancient fortress in the interior of the Italian island, sits a restaurant and cocktail bar with a terrace on the flat towers of a castle ruin. Once you've climbed the granite stairs, a beautiful landscape with the most beautiful view unfolds. A dream location for a good cocktail or a multi-course dinner by chef Riccardo Pacifico. As night falls, DJs provide pleasant music. In for a night of dancing? Then all you have to do is walk back down the stairs to the club. Ritual opened its doors in 1970 and has since become one of the most imaginative clubs in the world. The goal of founder Andres Fiore was to create a place where music and dance were celebrated. Anno 2022, well-known and unknown (inter)national DJs regularly provide fine tunes until dawn. www.ritual.it
Scandinavian design at Aurora in Vienna
On the sixteenth floor of hotel Andaz Vienna Am Belvedere, around the corner from the famous and impressive Slot Belvedere, sits rooftop bar and lounge Aurora since 2019. Aurora is inspired by Scandinavia: the name on the famous Northern Lights and the interior on the minimalistic Nordic design. The terrace has a warm atmosphere due to the fireplace and spacious layout with an unobstructed view of the starry sky at night. The professional bartenders will lovingly serve you their cocktails, each one inspired by the Nordic countries, such as the Nordic negroni, with Aquavit, vermouth, suze and lemon bitters. Aurora is the place to be for a pleasant afternoon and/or evening in bustling Vienna. The bar has its own entrance and elevator that takes you to the sixteenth floor in one go. www.bar-aurora.at
Do it chic at Le Perchoir Ménilmontant in Paris
At rue Crespin du Gast in Paris stands a large, industrial building with Le Perchoir Ménilmontant, from the well-known French hospitality group Le Perchoir, on top. This seventh-floor rooftop consists of a bar and a snack shack. Here the industrial goes effortlessly with the bohemian look with lots of plants, wood, reeds and natural colors. The cocktails are made with seasonal ingredients and Le Perchoir's own drinks, such as its own gin, vodka and cognac. Mixing is done with their own organic soft drinks produced at the Limonaderie in Paris. Think cola, ginger ale, lemonade and tonic. Seasonal snacks are served for small appetites. Want more? Then sink down to the sixth floor for a dinner in the restaurant where several traveling chefs are behind the stove for a few months. The website lists who is currently providing the food. www.leperchoir.fr/location/le-perchoir-menilmontant
Meat heaven at Mr Porter in Amsterdam
From Mr Porter's rooftop terrace, you have a stunning view of Amsterdam's historical center. You look out over iconic buildings such as the royal palace, the Nieuwe Kerk and the former main post office. Mr Porter is a sophisticated and modern steakhouse where the social is as important as the culinary. By the way, there are not only meat dishes on the menu, but also well-stocked salads and fish. The restaurant is located in the ridge of the State Building for Money and Telephone Company and W Amsterdam and has a rooftop designed by the award winning architects Alon Baranowitz and Irene Kronenberg of design firm Baranowitz + Kronenberg. Want to go for a swim after lunch? Then take a dip in the now famous swimming pool. www.mrportersteakhouse.com/amsterdam
Deserved relaxation at Sofitel in Brussels
The European Quarter in the heart of Brussels is the center of international employment in the Brussels Capital Region. Between the postmodern buildings sits the beautiful Sofitel Brussels Europe. With the motto 'work hard, play hard', fortunately in Brussels they also know how to relax after a productive day at work. Sofitel is happy to welcome you to their rooftop bar where you can leave all your stress behind after one of their cocktails. There are also regular performances scheduled. And all that with the pleasant murmur of the Belgian capital in the background. From Wednesday to Sunday you can enjoy the evening in the restaurant. https://www.sofitel-brussels-europe.com/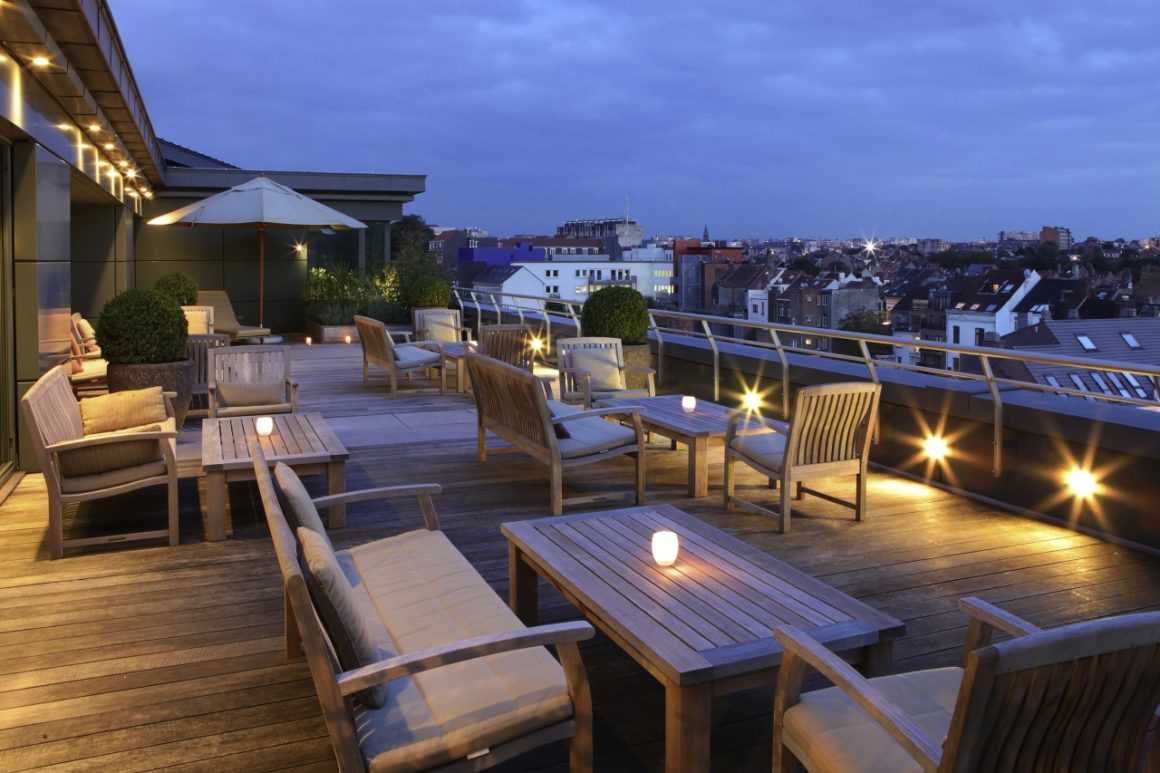 If you are looking for more great addresses for Food & Wine, be sure to dive into our Purefood page here! Have a great summer!