It's spring and summer is almost here! This is the perfect time for gardening or taking a walk among the blossoms. To stay in the mood, you can end your day with cocktail classics with a bright twist, the perfect drink for sunny days. Yes, beautiful and colourful flowers do not only belong in your garden or in a vase, but also in your favourite cocktail. Do you also like unique cocktail recipes and do you want to know how to make them? Then read on.
Lavender martini
A martini "shaken not stirred" is James Bond's favourite drink. This classic cocktail traditionally consists of gin or vodka and dry white vermouth. This easy lavender recipe is a tasty mix of sweet and sour flavours and gives a new, fresh, flowery touch to one of the most famous cocktails. It is therefore the perfect drink for beautiful spring and summer days.
Ingredients:
3 cl sugar-free lavender syrup
3 cl freshly squeezed lemon juice
4.5 cl vodka or gin
Ice for cocktail shaker
Citrus slice for garnish
Preparation:
First prepare your lavender syrup and let it cool completely before adding it to your cocktail.
Fill your cocktail shaker with ice, fresh lemon juice, your sugar-free lavender syrup, and vodka. Shake for 30 seconds, until the shaker is ice cold. Pour into a martini glass. Garnish with a lemon.
Lilac French 75
The originalFrench 75 cocktail consists of gin, champagne, lemon juice and sugar, This drink can be ordered since World War I, but only became popular between 1920-1930 and even appeared in the film classic Casablanca. The addition of silver syrup gives this cocktail a pink colour and a floral aroma. It has a lovely lilac fragrance and is a spring elixir that stimulates the senses.
Ingredients:
3 cl gin
3 cl lilac syrup
4.5 cl fresh lemon juice
Foamy wine like champagne
Preparation:
In a cocktail shaker, mix the gin, lilac syrup and fresh lemon juice. Add ice cubes and shake for 15 to 20 seconds. Pour into a coupe glass and top with champagne.
Rose and Ginger Paloma
The paloma is an easy-to-make cocktail for which you only need to mix 3 ingredients: tequila, lime juice and grapefruit juice. For this variation, you add extra rose water and ginger ale. The rose water gives this drink a subtle floral taste that goes well with the lime flavour. The ginger beer gives the drink a sweet touch and extra bubbles. Together it forms a beautiful pink, sweet and fizzy cocktail that is perfect for warmer days.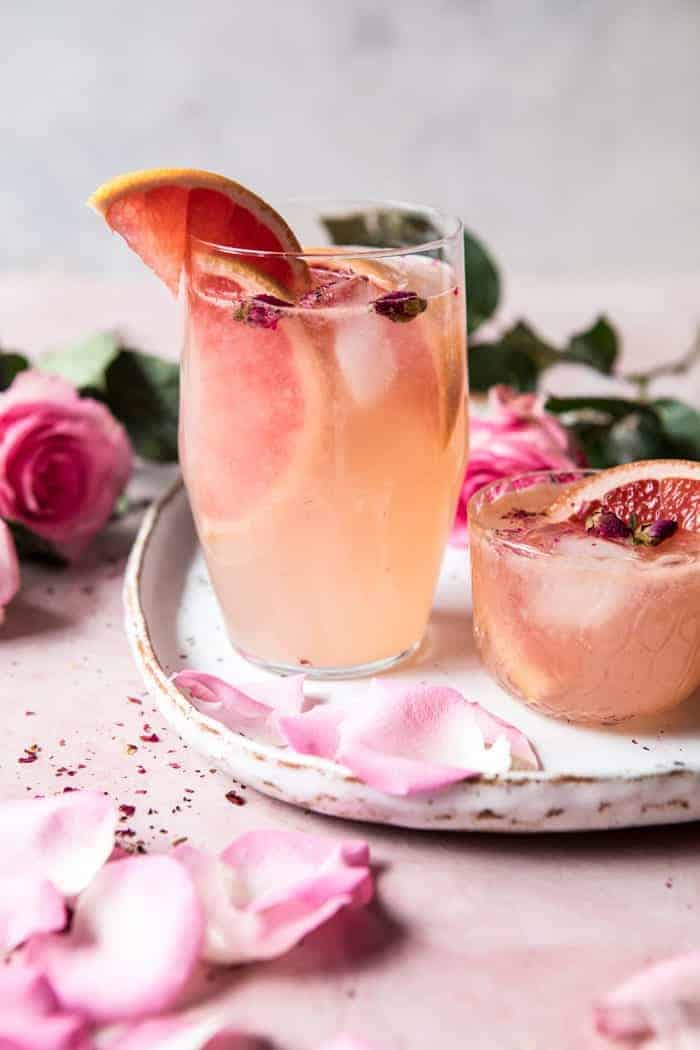 Ingredients:
6 cl fresh grapefruit juice
6 cl tequila
1 tablespoon fresh lime juice
1-2 tablespoons of rosewater
Ginger beer
Preparation:
Fill your glass half way with ice. Add the grapefruit juice, tequila, lime juice and rose water. Stir to mix and top with ginger ale. Garnish with fresh roses.
Hibiscus Mai Tai
This recipe adds an extra floral touch to the classic tiki drink the Mai Tai. This cocktail featured prominently in the Elvis Presley film Blue Hawaii and traditionally consists of rum, lime juice, orange syrup, and orange liqueur. This modern recipe chooses pineapple juice over orange juice; is finished with thyme and is slightly sweetened by the added honey and hibiscus tea.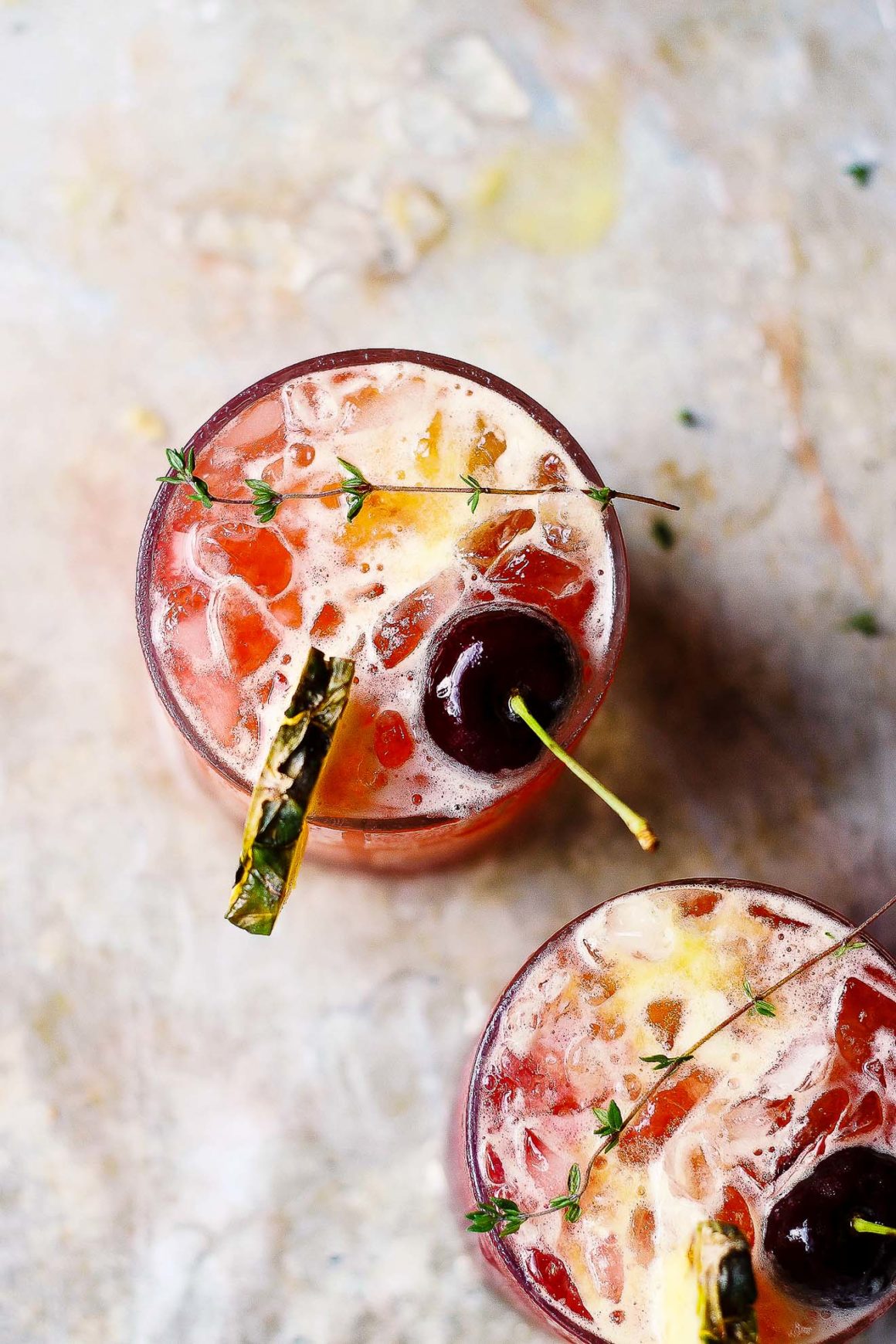 Ingredients:
1 tablespoon of loose hibiscus tea
5 large sprigs of thyme
12 cl hot water
1 – 2 tablespoons honey
18 cl rum
juice of 1 lemon
130 cl cups unsweetened pineapple juice
ice cream
Cherries for garnishing
Preparation:
Soak the hibiscus and thyme sprigs in hot water for 5 minutes. Then discard the hibiscus and thyme and allow to cool to room temperature. Then add the honey. Stir to dissolve and place in the fridge until completely cooled or until you are ready to use.
Combine the cooled hibiscus tea, rum and lemon juice in a shaker with some ice. Strain and divide between four glasses with ice. Top each glass with pineapple juice and garnish with a sprig of thyme, a pineapple slice and a cherry.
Twisted violets blueberry Gin Sour
The traditional gin sour cocktail is a simple combination of gin, lemon juice, sugar and in some cases egg whites. This lively purple-tinged gin sour with blueberry and violet is a far cry from the classic lemon-based gin sour. In this beautiful drink, the violet liqueur enhances the floral undertone of the blueberries. The mixture of lemon and lime offsets the sweetness and the egg white gives it a velvety texture and a nice foam.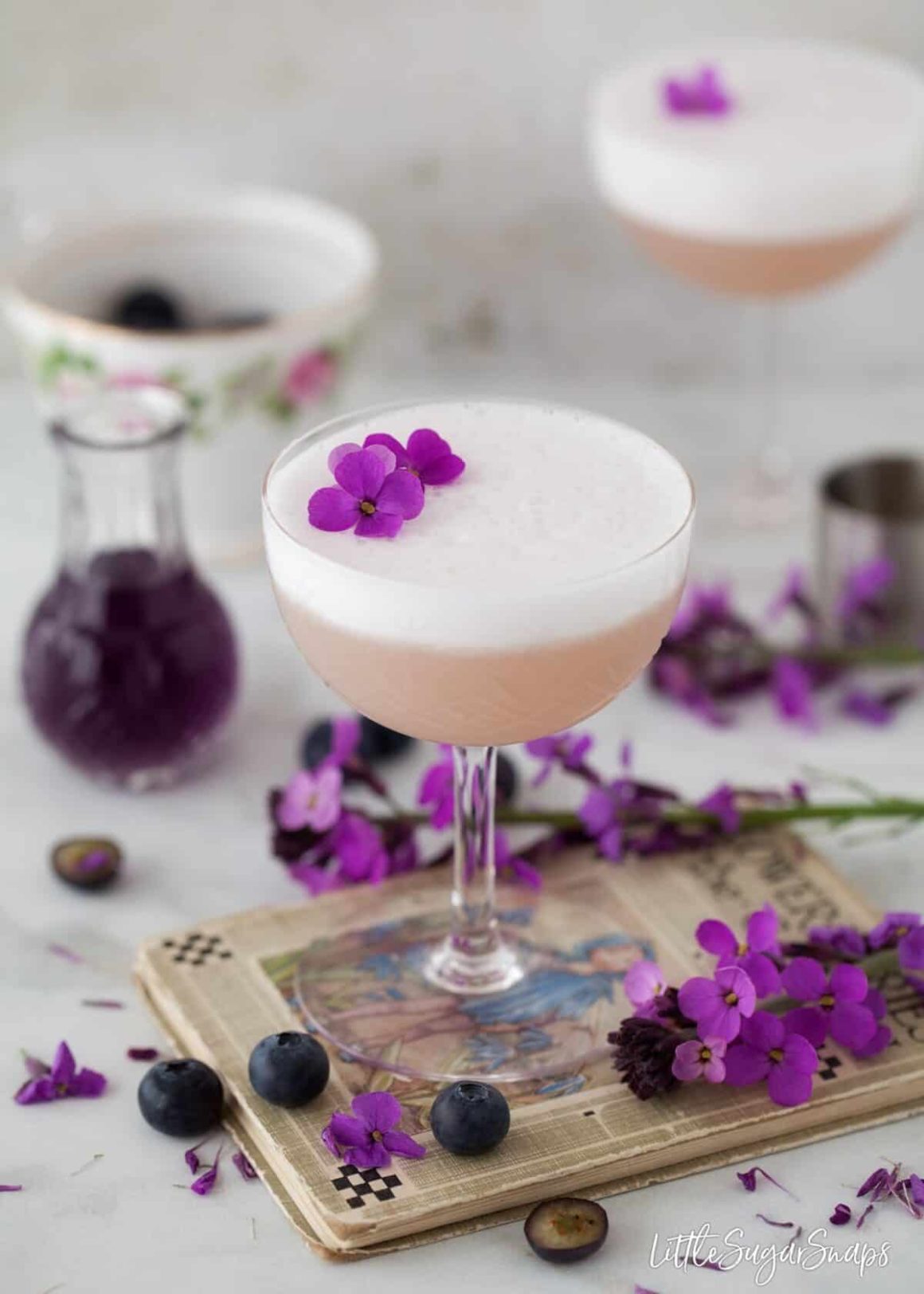 Ingredients:
40 Fresh blueberries
8 cl gin (choose a flowery one)
1.5 cl lemon juice
1.5 cl lime juice
1 cl violet liqueur
4 cl Sugar cane syrup
2 Egg whites (small eggs)
Preparation:
First put the blueberries in a jug and crush them with a cocktail spatula or the end of a rolling pin.
Pour the gin over it and mix some more.
Use a fine-mesh sieve and press on the solids to extract all the juice and gin. Discard the fruit pulp.
Optional additional step: strain the liquid a second time – this time through filter paper or a nut sack. This helps to remove small pieces of fruit and results in a wonderfully smooth drink.
Pour the gin and blueberries into a cocktail shaker and add the other ingredients (lemon and lime juice, violet liqueur, cane sugar syrup and egg white). Put the top firmly on the shaker and shake vigorously (at least 30 seconds).
Now add 6 ice cubes to the shaker, cover and shake again for 30 seconds.
Pour into 2 cocktail glasses and garnish with blueberries and flowers. Serve immediately.
Do you want to discover more delicious drinks? Visit our PureFood page!