When the cool breeze of the Caribbean combines with the aroma of fine cuisine, you know you are on the "Stars Chefs @ Sea" cruise, a culinary journey that combines food, luxury and adventure.
The world of cruises has always stood out for its luxury and exotic destinations, but the third edition of "Stars Chefs @ Sea", scheduled for March '24, goes one step further. This culinary cruise aboard the MSC Seaside ship is not just another cruise, it is a gastronomic adventure.
Initiator Emmanuel Sakkas, director of Manu Voyages, has brought together five of the most renowned chefs with a combined strength of 10 Michelin stars. The line-up is nothing short of impressive: Belgian Michelinstar chefs Cyril Molard, Eric Fernez, Viki Geunes, Thijs Vervloet and Michael Rewers. These masters of the kitchen will showcase their skills with exclusive dinners, culinary workshops and tastings.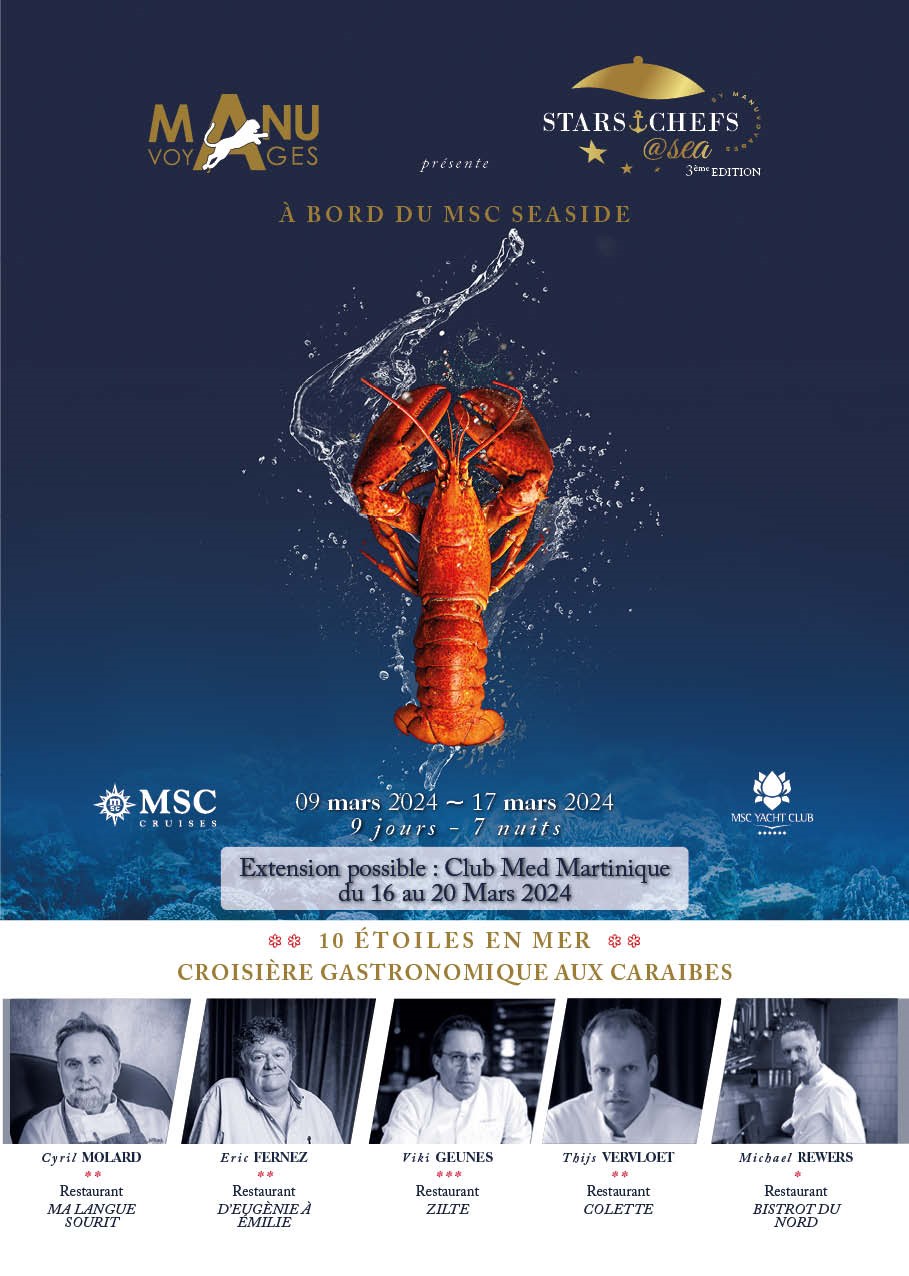 Participants have two options: a 9-day cruise (March 9-17) or a 13-day extended voyage (March 9-21), which will take them through the majestic Caribbean, a region known for its enchanting beaches, colourful coral reefs and rich history.
The MSC Seaside ship promises an incomparable experience. It combines indoor and outdoor spaces and allows guests to connect with the sea in a way never before seen. For those looking for an extra touch of luxury, there is the MSC Yacht Club. This exclusive area of the ship offers a world of luxury and privacy, where guests can enjoy sumptuous accommodations and first-class services.
Would you like to be part of this once-in-a-lifetime experience? Reservations are now open. Prices start from 4590€, and bookings for Flanders will be managed by Cruise Ambassadors.
MSC Cruises, the company behind this innovation, has a rich history and is known for its commitment to the environment. With a goal of achieving net zero emissions by 2050, MSC is committed to sustainability, making travel even more attractive for eco-conscious travellers.
So, if a unique culinary experience in the paradisiacal setting of the Caribbean is for you, then "Stars Chefs @ Sea" is the cruise not to be missed. Star chefs, stunning scenery and pure luxury await you. See you at sea!